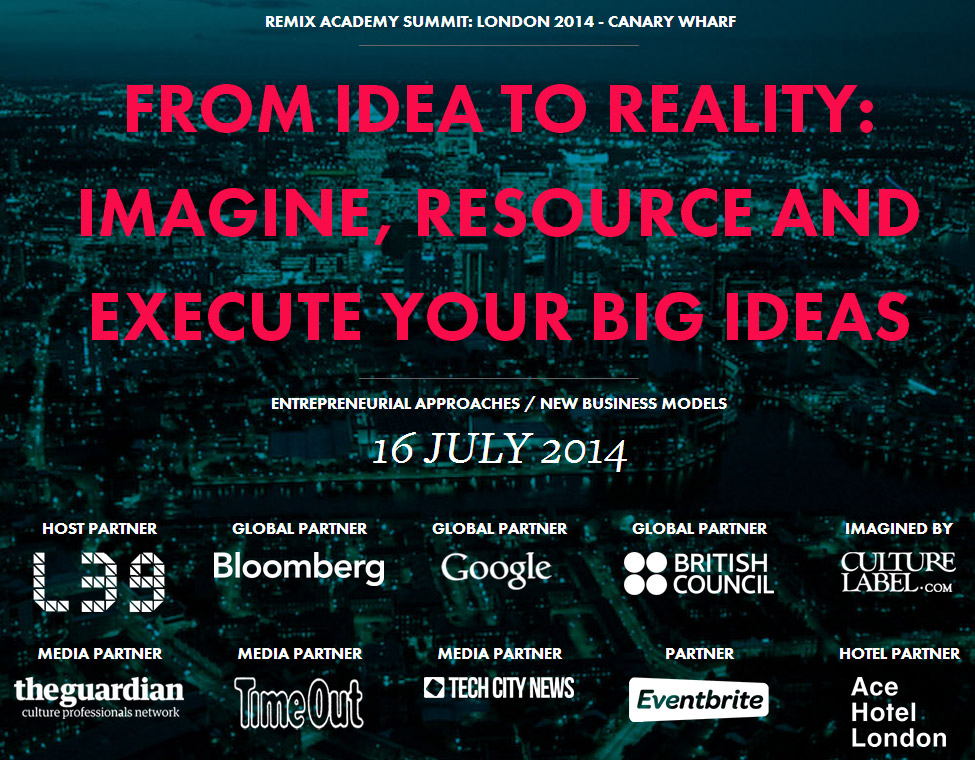 The event brings together world class speakers from across industries to discover, share and explore new ways to build big ideas in the cultural and creative industries.
ABOUT REMIX
SUMMITS
REMIX Summits tackle the big ideas shaping the future of the cultural and creative industries. By brings together leaders from across industries they facilitate the exchange of ideas and insights, fostering dialog and collaboration.
ACADEMY
A radically new approach to cultural sector training. The Academy bringing the tools, knowledge and experience from entrepreneurs and world leading experts from a wide range of industries and packages them into master classes and workshops that help cultural organisations excel. Online master classes available soon via our partnership with The Guardian.
INSIGHTS
Our blog and videos from past REMIX summits are full of ideas and insights about the intersection of culture, technology and entrepreneurship. A source of inspiration for every cultural professional who wants to break the mould. Our latest book REMIX published by The Guardian explores emerging consumer and tech trends impacting culture. Intelligent Naivety our first publication is a handbook for the would-be cultural entrepreneur.
We are delighted to welcome some amazing speakers including:
Andrew Miller, CEO of Guardian Media Group
Leonora Thomson, Director of Audiences and Development, BarbicanPeter Williams, Founder and CEO of Jack Wills
Sally Tallant, Director of Liverpool Biennial
Stephen Godfroy, Co-Owner/Co-Director of Rough Trade
Brie Rogers Lowery, Country Director, UK, Change.org
Yana Peel, CEO of Intelligence Squared and Co-founder of Outset
Jo Vidler, Founder and Creative Director, Wilderness Festival
Ben Barokas, GM, Global Marketplace Development, Google
Susie Donaldson, Marketing Director, Canon UK
Rytis Vitkauskas, Co-founder and CEO of YPlan
Chris Whiteley, VP Digital Strategy & New Business Development, BBC Worldwide
Daniel Priestley, Author of the 'Key Person of Influence' and 'Entrepreneur Revolution'
Hannah Barry, Founder, Hannah Barry Gallery and Bold Tendancies
Jon Bradford, Managing Director, Techstars
Diana Verde Nieto, CEO of Positiveluxury.com
Eric Van der Kleij, Technology entrepreneur and Head of Level39
Gavin Strange, Senior Designer, Aardman Animations
Andy Hewitt, Co-Founder, Gather.ly
Jenny Griffiths, Founder and CEO of Snap Fashion
Mary-Alice Stack, Chief Executive of Creative United
There will be over 30 speakers in total with more announced each week leading up to the event.
For information and tickets visit: www.remixsummit.com  (early bid ticket deadline: 16/05/2014)
email: remix@culturelabel.com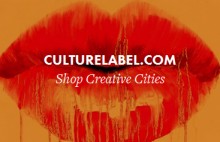 We are the cultural entrepreneurs behind CultureLabel.com. A unique online superstore officially partnered with the leading museums and galleries from around the world including Tate, V&A, British Museum, Royal Academy, Saatchi Gallery.
We have always been passionate about combining culture, technology and entrepreneurship. We created REMIX as platform for this type of thinking and to be a bridge, connecting the different sectors together.
Venue: Level39 is Europe's largest Financial Technology accelerator attracting entrepreneurial talent from around the world to the heart of London's business community. On the 39th floor of the iconic One Canada Square tower, the state of the art venue has dramatic views across London that take the breath away.
One Canada Square
Canary Wharf
London E14 5AP
United Kingdom