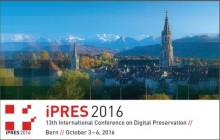 The Swiss National Library is delighted to announce that the 13th International Conference on Digital Preservation (iPRES) will take place in Bern from October 3 – 6, 2016.
iPRES is the longest standing digital preservation conference in the world. This important event brings together key theorists, researchers and practitioners to explore the latest trends, innovations, policies and practices in digital preservation.
iPRES 2016 is being structured around two key strands, research and innovative practice, with the aim to promote both the preservation research and the innovative preservation practices that are rooted in the professional digital preservation activities.
The conference features keynotes, conference sessions, panels, workshops, tutorials, poster sessions and a series of social activities. The core conference dates are:
Monday, October 3, 2016
Tuesday, October 4, 2016
Wednesday, October 5, 2016
Workshops and tutorials will be held on Wednesday afternoon and Thursday.
PREFORMA submitted a workshop proposal "Quality standards for preserving digital cultural heritage" and a paper "Status of CELLAR: Update from an IETF Working Group for Matroska and FFV1", which have been both accepted.
The workshop will present the results of the project, including demonstration of the conformance checkers developed during the prototyping phase. This will inform a discussion with the digital preservation community – open source community, developers, standardization bodies and memory institutions – about the opportunities offered by PREFORMA and the challenges that are still to be addressed.
The paper describes the IETF CELLAR working group and MediaArea's efforts with Matroska and FFV1. It will be presented by by Ashley Blewer and Dave Rice.
iPRES2016 will attract participants from leading institutions, projects and initiatives from all around the world.
The Swiss National Library is proud to be hosting this annual conference for the first time and is looking forward to welcoming you to Bern!
For further information visit the Conference website.