by Fred Truyen (KU Leuven)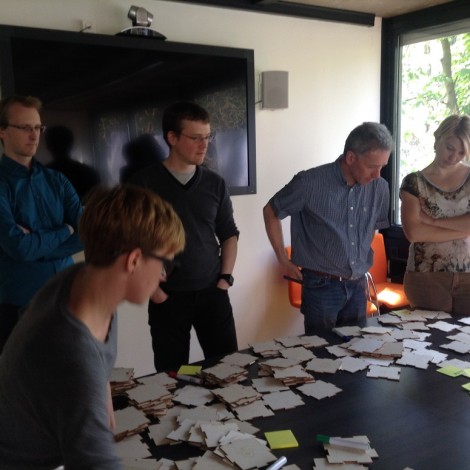 On Tuesday April 21st, the Photography pilot of Europeana Space had a brainstorm meeting on the Photography Hackathon. Under the skilled guidance of Ivonne Jansen-Dings and Christine van den Horn from WAAG, the team from KU Leuven, iMinds and Packed sat together to define the target audience, the main goal of the hackathon, the different groups we wanted to involve and the topics, but also to have a concrete look at the planning and program of the event. We also defined the team that would be in charge to make this all happen.
What is the photo hackathon about? There is a huge amount of digitized cultural heritage available on Europeana – and similar open repositories such as Wikimedia Commons and Flickr Commons – that are just waiting to be reused in innovative new applications. This shared cultural content can be an opportunity, with current technologies, to bring people together, to form a glue of new relations between content owners, educators, cultural heritage institutions, developers, students, stakeholder communities, creative industries. In this hackathon, we want to bring together creative minds, urban developers, artists, programmers, students in cultural studies, photography and engineering to build apps for a broad spectrum of users using open photographic content in a way that shows the value of reuse, relinking, remix.
Currently the tentative date for the event is February 25th-27th 2016, in Leuven, Belgium.
Anyway the prep meeting already had many of the properties we expect from the hackathon itself: it was inspiring, challenging, confrontational and disruptive, and we had the impression that at the end of a very intensive afternoon we made major steps forward to a concrete planning and program.
photos courtesy of Fred Truyen