After the success of the 2016 edition, the PDF Days Europe 2017 will be held in Berlin again, giving visitors plenty of opportunity to learn about the applications and benefits of PDF, PDF/A, PDF/UA and more.
Across two days, you'll be able to choose from German- and English- language presentations, user reports and workshops in order to assemble your own personal package of PDF knowledge.
Highlights of the 2017 edition include:
The future of PDF: PDF 2.0 and new initiatives
PDF/A: Archiving solutions
ZUGFeRD: E-invoicing solutions based on PDF/A
PDF/UA: Solutions for accessible documents
PDF/VT: Solutions for personalised printing
PDF/X: Pre-press solutions
Highlights from the 2016 edition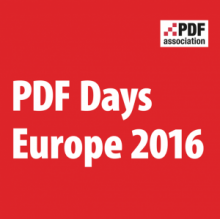 Over 150 attendees came to Berlin for the two-day conference – more than ever before. With over 50 presentations, the conference programme covered all PDF standards, giving visitors plenty of opportunity to learn about the applications and benefits of PDF, PDF/A, PDF/UA and more. The key message throughout the event was that the PDF format has become a critical component of every business, forming the fundamental basis of a wide range of business processes. This was underscored by the user presentations, the specialist talks from experts from around the world, and the podium discussions at the event.
For further information visit https://www.pdfa.org/pdf-days-europe-sees-record-number-of-attendees/.
Slide decks and video recordings of the PDF Days Europe 2016 are available at https://www.pdfa.org/slide-decks-and-video-recordings-of-the-pdf-days-europe-2016/.
About the PDF Association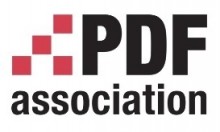 First established as the PDF/A Competence Center in 2006, today, the PDF Association is an international organization promoting awareness and adoption of open standards in digital document applications using PDF technology.
The association facilitates education, networking and communication, and the sharing of expertise and experience with interested parties worldwide. The current membership includes over 100 enterprises and numerous individual subject-matter experts from more than 20 countries.
The management board includes industry leaders from Adlib Information Systems Inc., Adobe Systems Inc., callas software GmbH, Datalogics Inc., DocuSign Inc., intarsys consulting GmbH, levigo solutions GmbH, LuraTech Europe GmbH, Nitro Software Inc. and Satz-Rechen-Zentrum (SRZ). The association's chairman is Olaf Drümmer, CEO of callas software GmbH. Peter Duff, President and CEO of Adlib Software, is the association's vice-chairman.