A Memorandum of Understanding has been signed between PREFORMA and the Impact Centre of Competence in digitisation for the promotion and presentation of the respective results and for the organisation of joint events and other activities, focusing in particular on the use and quality check of common standards for text digitisation and long term preservation.

PREFORMA (www.preforma-project.eu) is a Pre-Commercial Procurement project co-funded by the European Commission within the framework of the FP7 ICT Programme (Grant Agreement 612789) with the aim to address the challenge of implementing good quality standardised file formats for preserving data content in the long term and to give memory institutions full control of the process of the conformity tests of files to be ingested into archives.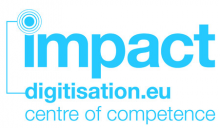 IMPACT Centre of Competence in digitisation (http://digitisation.eu) is a not for profit organisation with the mission to make the digitisation of historical printed text "better, faster, cheaper". It provides tools, services and facilities to further advance the state-of-the-art in the field of document imaging, language technology and the processing of historical text.