What's new in MediaConch 16.08
Local GUI
New policy editor
minor fixes
Policy Editor: closes messages when user changes the policy/rule
Checker: remove a node is not saved
Checker: fixed hadling of files with special characters
Added ctrl-q shortcut to quit
Better handling of user path
Online GUI
Policy Editor: closes message when user changes policy/rule
CLI
Checker: fixed handling of files with special characters
Better handling of user path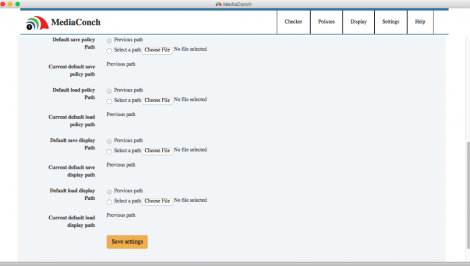 Latest Downloads
Download MediaConch's latest release or a daily build.
MediaConch now supports plugins including VeraPDF and DPFManager!
Updates
Sign up for our upcoming MediaConch webinar on Thursday, September 15th at 3pm CET / 9am EST / 6am PST (for the early risers!).
MediaArea folks and PREFORMA at large will be hosting a workshop and giving talks at iPRES in Bern, Switzerland on Wednesday, October 5th! Check out the Workshop 3: Quality Standards for Preserving Digital Cultural Heritage as well as Ashley Blewer's talk on CELLAR and the standardization of digital preservation.
In case you missed it, here is a great synopsis and a review by Erwin Verbruggen of our pre-IETF Berlin Symposium: No Time to Wait!: Standardizing FFV1 & Matroska for Preservation held July 18th – 20th. You can also check out ample documentation and links to videos of the talks.
The MediaConch project and this symposium has received funding from PREFORMA, co-funded by the European Commission under it's FP7-ICT Programme.
Feedback
MediaArea is eager to build a community of collaborators and testers to integrate the software in their workflows and participate in usability testing. Please contact us if you'd like to be involved!