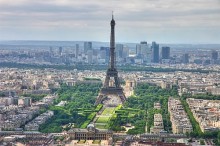 The International Association of Sound and Audiovisual Archives (IASA) announces its 2015 annual conference to be hosted 27 September through 1 October at the Bibliothèque nationale de France, in "La Ville-Lumière", Paris, France. IASA welcomes all who manage and care for the world's sound and audiovisual heritage to come together in Paris, the enchanting city of light, where we will explore innovative and tested solutions to contemporary issues that face us all.
In reference to Dumas's Three Musketeers, and in honour of hosting a conference in this centre for knowledge and national heritage, the 2015 Annual IASA Conference will boast the theme:
All for One – One for All: Common Concerns – Shared Solutions.
We invite one and all to the Bibliothèque nationale de France on 27 September through 1 October 2015 to discuss these sub-themes:
Archives without walls — semantic networks and born digital information
Organizing knowledge
Legal deposit
Archive workflows
Selection — acquisition, preservation, and access
Collaborative description
Obsolescence
The programme will include Papers, Tutorials and Practical Workshops.
The paper "MediaConch: An open source audiovisual file conformance checker" has been accepted and will be presented by Hermann Lewetz of Austria Mediathek on behalf of MediaArea's team at IASA in Paris.
For further information visit the Conference website.