CRe-AM and Europeana Space are two projects which both aim to enhance the creative industry by leveraging on ICT and digital cultural content.
Europeana Space intends to do this by originating concrete scenarios, best practice and tools, and further by offering real business modeling and incubation actions towards innovative creative projects, selected via a series of thematic hackathons. CRe-AM is focused on engaging the stakeholders of the creative industry and ICT in a fruitful dialogue in order to develop new ways of using technologies and tools, new products, services and new business models.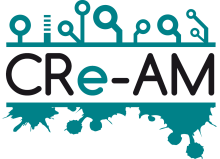 It is no surprise that the two projects want to join forces to bringing together the respective communities and to providing each other with a new targeted audience able to add value to the roadmaps and best practices developed.
Europeana Space is also intending to cooperate to CRe-AM's sustainability, in particular by developing synergies for the CRe-AM's Community Space.
http://www.europeana-space.eu/network/cooperation-agreements/cre-am/