by Rosamaria Cisneros, Coventry University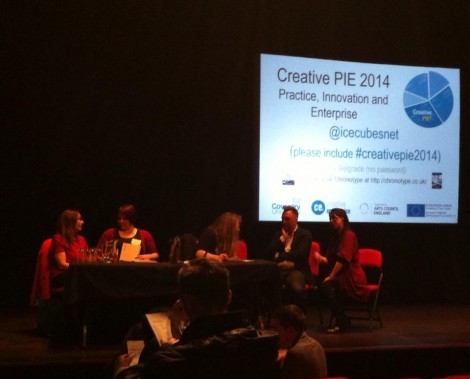 While participating in this interesting event, CREATIVE ENTERPRISE PIE Conference 2014 held at Belgrade Theatre Conference Venue in Coventry on the 12th November 2014, the objectives were to: (a) disseminate Dance Pilot information and tools. (b) Encourage people to learn more about E-Space and visit project website c) follow the project on twitter and other social media outlets (d) identify local test-users (e) gather feedback on the E-Space Dance Pilot ideas.
Coordinator Sarah Whatley talked in a pop-up discussion dedicated to E-Space and the Dance pilot, about dance annotation and digital technologies; there also was an informal discussion during the PIE Conference which gathered information on Digital Technologies as well as disseminating E-Space. Also Jonathan Shaw from the Open and Hybrid Publishing pilot had a pop-up discussion about open and disruptive media.
Audience  was comprised of creative enterprise business leaders, entrepreneurs, artists, graduate students, academics and other cultural heritage of different nationalities: English, Romanian, American, Irish. Contacts were made with individuals in the creative enterprise sector, cultural heritage sector, free lance artists and university students studying Performing Arts.
Attendees were interested and eager to learn more.  The dialogue generated was constructive and useful for us as a pilot and for them as participants. We gathered information on the digital technologies they are familiar with or currently using. We also shared with them that early next year we will be testing our apps and hope to include them in some capacity.
Website of the event:  Http://www.creativeenterprisecoventry.wordpress.com