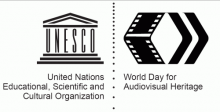 Last September, over 200 delegates from around the world attended the 1st international SOIMA conference to jointly define a ten-year vision for audiovisual archives. To celebrate the World Day for Audiovisual Heritage, the SOIMA community invite the wider audiovisual archive community to provide their feedback on our vision, and how to reach it.
The full text has been published on Medium – a publishing platform that allows you to easily insert your comments, questions, concerns or approval.
Read and comment the vision document at https://medium.com/@johanoomen/soima-turing-vision-into-reality-and-positive-change-fc2388ea953f#.5ek6b72yn.