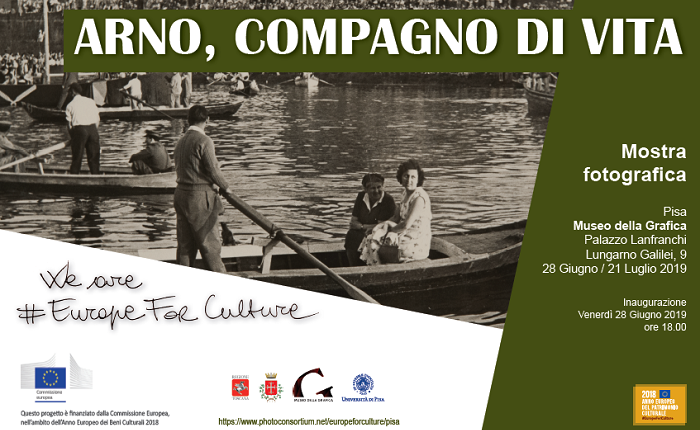 European Commission's project WeAre#EuropeForCulture is partnering with Photoconsortium's network to organize participatory events in various European cities, with the aim of creating exhibitions that include both institutional and crowdsourced heritage and which celebrate the diversity of European cultural heritage, by engaging citizens in the co-creation of cultural experiences. The series of exhibitions is a legacy from the activities of the European Year of Cultural Heritage 2018.
The Italian edition of the series, ARNO, COMPAGNO DI VITA, is dedicated to the lovestory between the river Arno and the citizens of Pisa: from regattas to floods, from fishing to the traditional games and festivities, the river has always been a companion in Pisa's everyday life.
The exhibition was created with crowdsourced images, stories, objects and memories. A co-creation session with seniors, students and photo amateurs and collectors took place on 31 May; the exhibition is hosted at the Museo della Grafica and the vernissage was on 28 June 2019.
photo credit: (c) 31/5/2019 Martino Sisti; 28/6/2019 Rudy Pessina

ARNO, COMPAGNO DI VITA
Organized by PHOTOCONSORTIUM
Vernissage event 28th June 2019
Until 21st July 2019