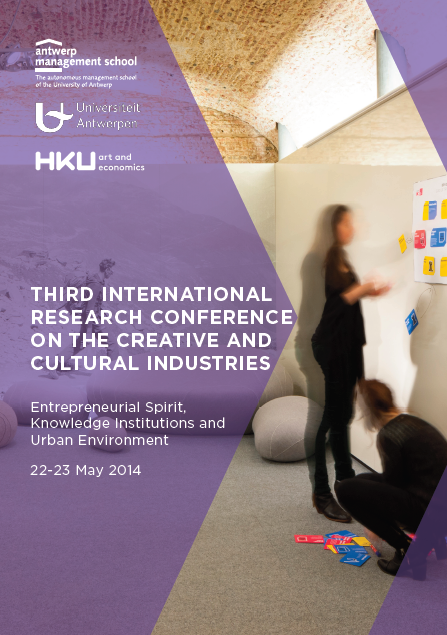 The conference is organized by Antwerp Management School, the University of Antwerp and HKU University of the Arts (Utrecht). This conference taps in to the changing dynamics between creative industries, knowledge institutions and urban policy. Moreover, this scientific conference is addressing various sectors of the arts and cultural industries (performing arts and festivals, heritage, museums and visual arts, film production and distribution, book publishing, recording, broadcasting, audio-visual media and multimedia, design).
Targeting academics, researchers, cultural managers, artists, policy makers, students and also the wider public, this moment is an excellent opportunity to meet and exchange with other CCI stakeholders and expand professional networks.
On Thursday May 22, Edna Dos Santos, R.C. Kloosterman and Dany Jacobs share their ideas in key note speeches. In the afternoon, we host several paper sessions, in which academics present recent research insights. They present their research activities and research articles as well as theoretical/conceptual papers that engage with pertinent questions and issues in depth from a pedagogical, sociological, cultural, political, economic, philosophical and/or ethical standpoint reporting on case studies or developments within our three conference topics.
On Thursday evening we launch the second book in the Series Pioneering Minds, 'Beyond Frames The Cultural and Creative Industries and their links with Entrepreneurial Spirit, Urban Environment and Knowledge Institutions', festively in Designcenter De Winkelhaak.
On Friday May 23, we have more room for paper sessions. Furthermore, Paul Rutten, Isabelle De Voldere and Eric Hitters present ongoing research projects. Afterwards time is reserved for reflection and debate. Round table discussion sessions with all participants are held to reflect on the research agenda in the Cultural and Creative Industries. We conclude with a debate where we link academic insights back to practice. Pascal Cools (Flanders DC), Dirk Diels (City of Antwerp), Valerie Frissen (Click.nl) and Gerard Marlet (Atlas voor Gemeenten) are attending to the panel.
Download the programme (PDF, 1.83 Mb)
Webpage: www.conferencecci.eu
This conference is a cooperation between the University of Antwerp, the Antwerp Management School and the HKU (Utrecht) and can count on the support of Flanders DC, City of Antwerp and ENCATC, the leading European network on cultural management and cultural policy education.