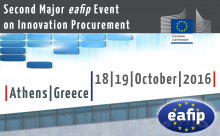 eafip, the European Assistance for Innovation Procurement initiative promoted by the European Commission, is organising a major innovation procurement event, co-hosted by the European Commission and the Greek Ministry of Economy, Development and Tourism in Athens, Greece on the 18th and 19th October 2016.
The event will include: presentations on the strategic use of innovation procurement by key cities, regions and countries across Europe and beyond; presentations by successful PCP and PPI projects; discussion groups on future funding opportunities moderated by EU officials; as well as presentations about the eafip Toolkit and local assistance (see our website for more information).
PREFORMA has been invited to deliver a presentation at this event in Session 2 at midday (12pm) on 18th October: Joint Cross-border of procurement.  This session will include presentations on joint cross-border Pre- Commercial Procurement (PCP) and Public Procurement of Innovative Solutions (PPI).
Download here the agenda of the workshop.
For futher information visit the event webpage.
The eafip initiative
The eafip initiative focuses on the promotion of the benefits of innovation procurement, providing at the same time training based on a Toolkit that is addressed to policy makers, procurement officers and procurement law firms. Assistance will also be offered to public procurers across the EU with a concrete interest in implementing innovation procurements.
For further information, please visit the eafip website: eafip.eu.