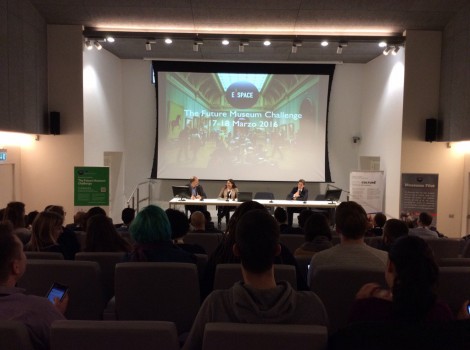 Another inspiring hackathon for Europeana Space took place in Venice, at the Ca' Foscari University Campus (Mestre), dedicated to Museums.
The call itself was exciting: We're looking for innovative and advantageous designers, coders, museum experts and lovers, cultural managers,  artists, creatives, IT and marketing experts to take up the challenge of redefining the museum experience and take their new ideas to market!
Over 120 people responded to the call and over 90 of them came to Venice to bring their ideas.
The event was a great success with hackers and teams coming from different countries, and the nice organization of hosting partner Ca' Foscari with the support of Museums Pilot coordinator Fondazione Sistema Toscana and of Technical coordinator Promoter S.r.l.
During the two-day event, the 16 different teams focused on building new products and developing creative ideas that will bring museums into the 21st century with a better user experience, enhancing content, engaging the audience and improving the educational experience. Participants worked on creating products that are not only innovative but also can produce sustainable business models.
The event started with a plenary session that set the scene for the challenge with presentations about the Museums Pilot and its contents, the E-Space project, the WITH platform, Europeana, as well as the insights on the competition itself.
The selection of the three winners was very tough, due to the high quality of proposed ideas. After a pleasant but long discussion, the jury voted the first three promising and innovative ideas, whose representatives  and will now fly to London for an intensive Business Modelling Workshop to hone their ideas' business potential.
Here's the lucky winners:
Proverb team with "PostArt"; a way to share contents and emotions from the museum visit
3logic team with "YourMuseum"; a mobile app to see really beyond what is seen from the usual visitor's eye
Lilith team with an app to spice up the museum visit with edutainment features
…but we are sure that we will hear again also from some of the other projects and teams!
After a further selection, only one team from the three will be selected: the one with the strongest idea will win a 3-month intensive incubation package from the Europeana Space Network.
If we had to summarize the hackathon in 3 words, the choice would be: exciting, inspiring, successful!
Event website: http://www.europeana-space.eu/hackathons/museums/
Download the flyer (PDF, 3.15 Mb)