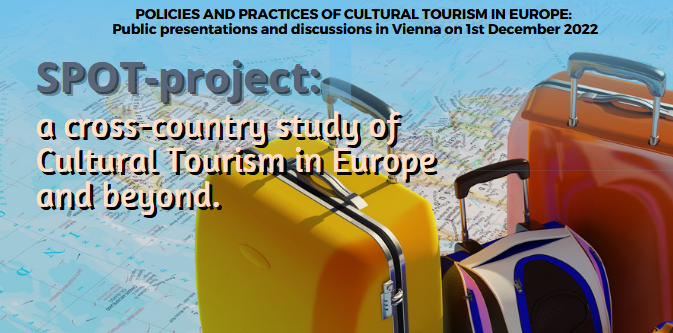 The final event of project  SPOT (www.spotprojecth2020.eu) is organized in Vienna inviting all professionals and scholars of Cultural Tourism in Europe. This project was implemented in 2020-2022 in 13 EU countries (Austria, Czech Republic, Estonia, Germany, Greece, Hungary, Italia, the Netherlands, Poland, Romania, Slovakia, Slovenia, Spain), as well as in the UK (Scotland) and Israel, and funded through the Horizon 2020 program of the European Commission.
View programme (PDF, 2 Mb)

If you are committed to the organisation and promotion of Cultural Tourism, studies of cultural landscapes and heritage, political and social implications and related business issues, such as local and regional development – you should not miss the public presentation of the outcomes and the discussion of practical recommendations of the SPOT project!
The event takes place on Thursday 01 December 2022 at the premises of the Conference Centre of the EUROPAHAUS (Linzer Straße 429, Vienna 1140) starting at 9:00 am – see the program details HERE, alongside with summaries of major project outcomes (Policy Briefs, Analytical reports, 15 Case Studies poster presentations, etc.)
We expect the participation of 100 to 120 guests, including the members of the international SPOT Project Consortium and external stakeholders coming from the tourism business, research organisations and universities, professional and social media, as well as administrative and policy-making bodies.
Participation in the event is free of charge. 
Preliminary registration is required >> REGISTRATION
Eventual co-sponsors are welcome – please contact the organizers to discuss the options by e-mail: milada.stastna@mendelu.cz and/or chvorostov@gmail.com .
Journalists and representatives of media are especially encouraged to attend. A press release and background information will be available at request.  Besides, there will be a special time slot devoted to a press conference for journalists and representatives of social media; interviews with the project and team leaders from 15 countries, as well with as other renowned experts in various fields of studies of cultural tourism of can be arranged on-site or as a matter of conference follow-ups.
In addition, the SPOT final event on-site exhibition offers:
Project posters and selected handouts of project outcomes (Policy Briefs, recommendations, leaflets, etc.)

Graphic and multimedia presentations of

Project case-studies

SPOT-IT innovative tool (a GIS-based platform to support the tourism development per location)

Presentations and handouts of sponsors, stakeholders and further external partners
SPOT team is looking forward to welcoming you at our final project event!
Read more on SPOT website: http://www.spotprojecth2020.eu/