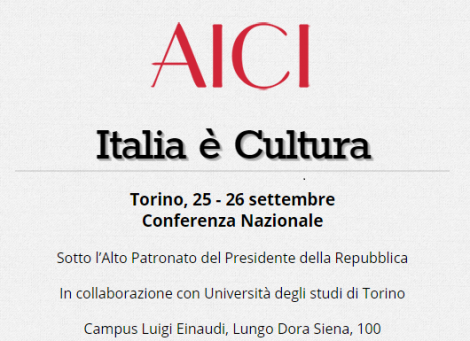 A very prominent conference is taking place in Turin on 25 and 26 september: ITALIA E' CULTURA (Italy is Culture) organised by AICI (Association of Italian Cultural Institutions).
This conference will see, among its participants, the Italian Minister for Cultural Heritage and Activities and Tourism, along with representatives from the European Commission and from many important Italian Institutions.
The speech about RICHES, by Antonella Fresa, takes place in the afternoon of Day one, during the workshop entitled Culture in EU policies: Horizon 2020, Creative Europe (La Cultura nelle politiche dell'UE: Horizon 2020, Europa Creativa) moderated by AICI's Secretary-general Carmine Marinucci.
Confirmed speakers of the workshop:
Fabio Donato, Università degli Studi di Ferrara, Italian Representative SC6 in H2020
Antonella Fresa, Promoter, presenting RICHES – Renewal, Innovation and Change: Heritage and European Society
Cristina Loglio, President at the technical table of Italian Ministry for Cultural Heritage and Activities and Tourism MIBACT
Leila Nista, presenting the initiatives of MiBACT for the European cultural policies
Luigi Perissich, ConfindustriaSIT, IPOC2 platform
Learn more about the event here: http://www.digitalmeetsculture.net/article/italy-is-culture-cultural-institutes-for-economic-development/

RICHES on Twitter #richesEU
RICHES on YouTube www.youtube.com/richesEU