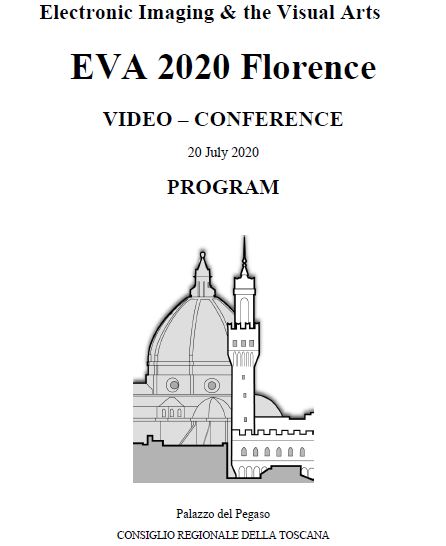 EVA (Electronic Imaging & the Visual Arts) is a series of annual meetings started as small workshop in 1991 and become in few years a well defined conference.
The key aim of this event was to provide a Forum for the user, supplier and scientific research communities to meet and exchange experiences, ideas and plans in the wide area of Culture & Technology.
Main topics of discussion:
– European Commission Projects and Plans regarding Culture Heritage
– Cybersecurity
– Culture and e-government
– Activities and Programmes for e-learning
– Fashion
– Cultural Tourism & Travel Applications
– Impact of Culture in the Smart City
– Art and a Medicine
– Climate Change
– New Technologies for Environment Protection
– Green Economy
– Circular Economy
– Social Humanity
– Actions for Disabled People
Special attention was paid to the emerge of innovation perspectives for new job and, on this regards, a dedicated brain-storm session was reserved to face the connection between research – innovation – development – new enterprise – new job that concluded the first part of the conference.
The event was organized in five sessions:
1) Strategic Issues
2) New Science and Culture Developments & Applications
3) New Technical Developments & Applications
4) Cultural Activities – Real and Virtual Galleries and Related Initiatives
5) Access to the Culture Information
The REACH project was presented in the framework of the last session to the International EVA Network with the possibility to foster future dialogues and engagement.
Because of the Covid-19 restrictions, presentations were held on line.
The full paper on REACH is available here and the presentation is avalaible on the project's website for the free download .
Download the full programme of the event
Contact Person: vito.cappellini@unifi.it