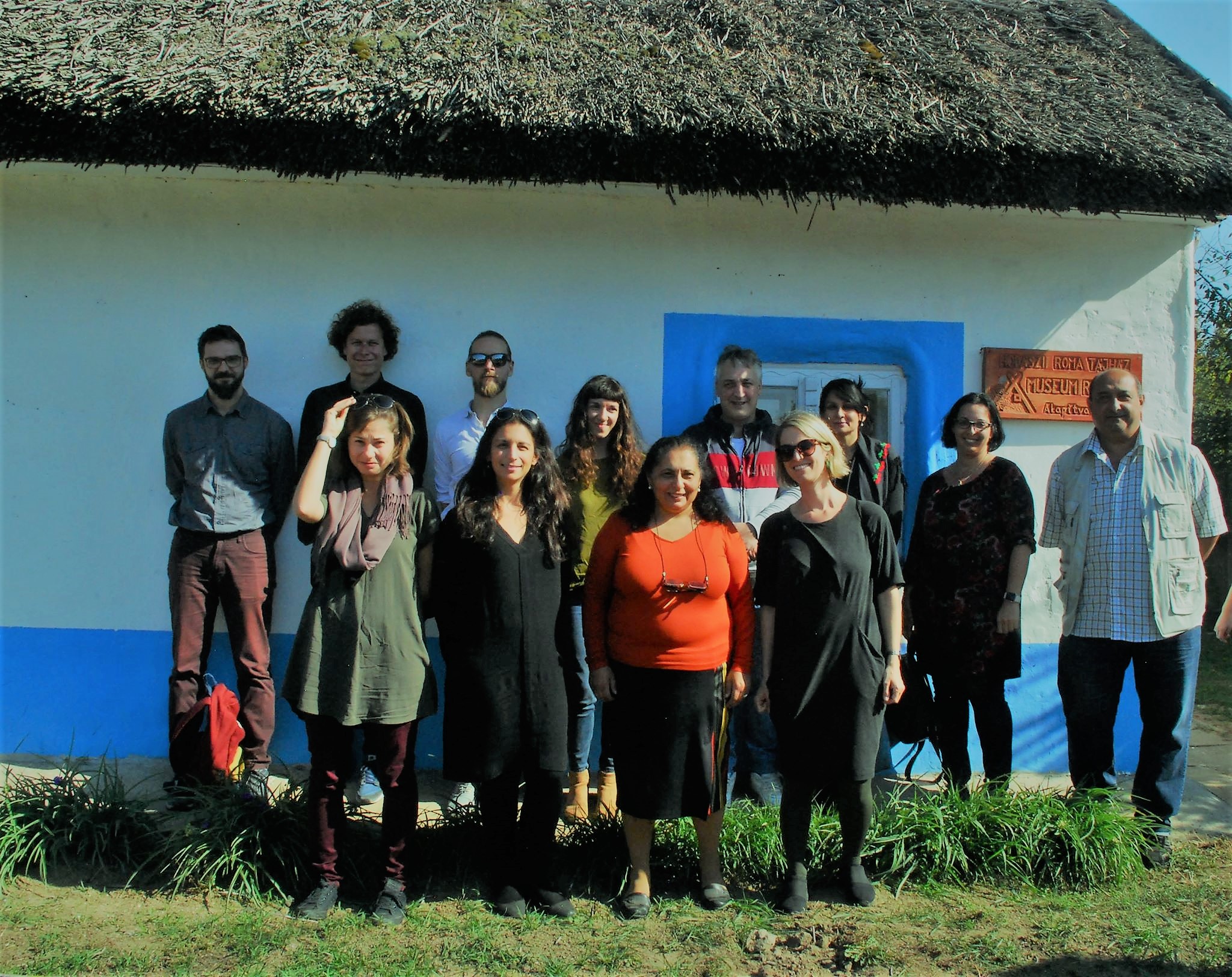 The REACH local encounter was hosted by the
Roma Country House in Hodász
, founded in 2001, which is the first similar institution in Hungary. The country house, located in an extremely deprived sub-region in
North-Eastern Hungary
is not only undertaking an eminent role in
preserving the Roma traditions
but also in local community-building and in ensuring diverse artistic and professional activities to the children and teenagers of the village.
The event stared with the
visit of the different buildings of the Country House
, including:
– the small cob house that presents the living conditions of a relatively wealthier Gipsy family with traditional furniture and home utensils
– a shabby house dig into the ground that represents the living state of the 1930's
– the building of so-called 'string-kindergarten' (named after the strings that had been stretched around the Gipsy slum) was founded in 1970 by Lina Rézműves, mother of Melinda Rézműves, the owner and manager of the Romy county house
– a new community building, representing the housing conditions of the 1970's, which aims to be a tea house / community center for the local youth
– Atelier and Guest house, comprehending also a nursery room and a conference room.
After the lunch, the
participants introduced themselves and their institutions
and even though they came from very different professional and geographic background, a few key words and central notions appeared commonly in their discourses: in some way, all of their initiatives have been concerned with the preservation of local values, the reach-out and the involvement of the community and the eagerness to find innovative ways to remain sustainable.
The introduction was followed by a very fruitful and interesting discussion
during which the various aspects of sustainability and the
possibilities to create more visibility for marginalized cultural heritage sites
have been emphasized.
The presence of the creative/cultural industry
(represented by the director of Arts for Rural Development Foundation and the manager of Pro Progressione) very much enabled the recognition of new perspectives and suggestions regarding the creation of rural festivals introducing Roma culture or the nomination of the Hodász Country House to the European Roma Cultural Routes.
The encounter facilitated the eventual cooperation of Roma cultural institutions, experts in social design and social architecture and cultural managers.
Host: Melinda Rézműves, director of the Roma Country House in Hodász
Participants of the REACH project, organizers: Eszter György and Gábor Oláh (Eötvös Loránd University, Atelier Department for European Historiography and Social Sciences)
Participants:
István Gábor Molnár, president of Roma Minority Self-Government, Újpest; founder and director of Roma Local History Collection, Újpest
Éva Váradi, member, Roma Local History Collection, Újpest
Fanny Hajdú, production manager, Pro Progressione
Balázs Váradi, architect
Balázs Juhász, architect
Rita Szerencsés, project manager, MOME EcoLab
Natália Oszkó-Jakab, director, Valley of Arts Festival and Arts for Rural Development Foundation
Natália Jakab, vice-director, instructor, Gandhi High School
Sándor Tisza, director, Traditional wooden park, Csongrád
Nikoletta Orbán, technical manager, Roma Country House in Hodász
Patrik Mravik, PhD programme, Eötvös Loránd University, Atelier Department for European Historiography and Social Sciences