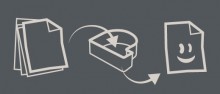 PREFORMA website is now online at www.preforma-project.eu.
The website contains all information relevant to the project, including updates on the most important activities, contact details, information on how to join the community, and a detailed description of partner institutions and their contributions.
The website is complemented by a project blog hosted in the popular Digital Meets Culture online communication platform. The blog features news, articles and upcoming events related the project – automatically featured also on the website – and it helps to widen the communication of the project towards a larger audience, including both professional and general public.
The project has simultaneously released the tagline that will represent the project together with the logo: Future Memory Standards.