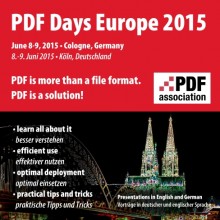 PDF technology has now become a global standard – and one more stable and reliable than ever. Over the course of more than twenty years of committed development, this application-independent file format has become a real miracle worker. Protected by international standards, PDF is now an indispensable part of the modern business world.
Not all PDFs are created equal. Several specialized subset standards use the core PDF technology as a starting point. PDF Days Europe 2015 aims to acquaint you with both the technology behind PDF and the range of outstanding solutions that use it:
PDF/A: Archiving solutions
ZUGFeRD: E-invoicing solutions based on PDF/A
PDF/UA: Solutions for accessible documents
PDF/VT: Solutions for personalised printing
PDF/X: Pre-press solutions
The rise and rise of PDF technology has not been confined to the business world alone. PDF is playing an increasingly critical role for digital document exchange in public and scientific institutions.
Did you know that a PDF file…
… can be digitally signed?
… can include additional comments?
… can contain other files, such as Excel spreadsheets?
… can be attached to another PDF file?
… can also be accessed on your smartphone?
… now meets legal regulations?
PDF Days Europe 2015 will offer answers to IT managers, decision-makers,
ECM strategists, developers and PDF experts, and provide suggestions for optimal PDF usage.
For more information visit http://www.pdfa.org/event/pdf-days-europe-2015-2/.