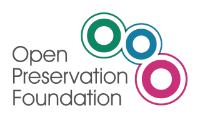 The 2014-2016 Annual Report has been published by Open Preservation Foundation.
The Open Preservation Foundation sustains technology and knowledge for the long-term management of digital cultural heritage. The report looks back on the activities and achievements undertaken by the Foundation over the past two years. Highlights include:
Launch of strategic plan 2015-18, new name, brand and website
New membership and software supporter model
Technology: stewardship and sustainability
Knowledge: webinars and interest groups
New Alliances and community contributions
Project summaries
An introduction to the year ahead
veraPDF, one of the three open source projects funded in the framework in PREFORMA, is considered "a crucial technical success by providing the definitive implementation of a PDF/A validation tool, which was released in version 0.14 earlier this year. Such a tool is eagerly awaited by organisations around the world and will certainly have a huge impact in the preservation community and beyond. The project also supports important on-going collaboration with the PDF Association." (Ross King, Austrian Institute of Technology, Chair of the Board of Directors of OPF).

The report is freely available HERE.