by Tiziana Lombardo, FST
On 15 and 16 May 2014 took place at Noterik's premises in Amsterdam the ESpace WP4 partners' meeting. The event was organised to plan in bigger detail the upcoming activities of the 6 themed Pilots of the project (Museums, Open & Hybrid Publishing, Games, Dance, Photography, Europeana TV), to deeply discuss their scenarios and to prepare for the project's Deliverable 4.2 that is exactly dedicated to the Pilots' planning.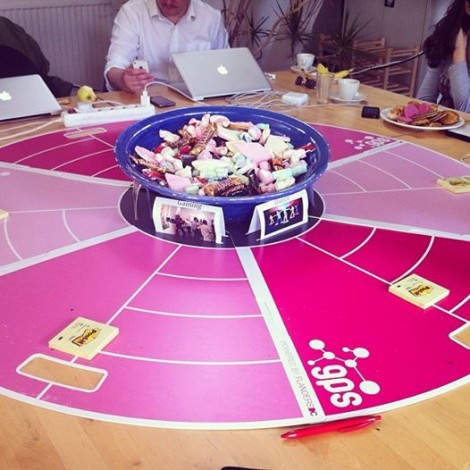 The first day was occupied with an interactive brainstorming session, facilitated by partner and WP4 leader iMinds, that saw 12 consortium members being busy with imagining future scenarios and visionary applications for the 6 pilots.
Thanks to a massive use of post-it and discussion, the "brainstorming" team exercised in developing 6 use cases scenarios, their applications, their feasibility and possible business model.
The brainstorming team has been rewarded with plenty of candies and mashmallows that were the brain gasoline of the whole afternoon session.
The second day saw an in-depth discussion on planning the delivery of the project market analisys and the structure and contents for deliverable 4.2. Hackathons and monetizing workshops, which will be organized later in the project to boost the pilots' prototypes and results, were also roughly planned. The occasion of the meeting was also the good place to preliminary present and discuss the upcoming Opening Conference of Europeana Space, to be held in Venice in mid-October 2014 hosted by University of Venice.
The project members left the meeting with a full agenda for the upcoming weeks that will make the project run at full steam…. hopefully we still have some candies left!!