Hosted by the Austrian National Library in the prestigious location in Vienna, on 7-8 September the kick-off meeting of the Europeana DSi-2 project took place.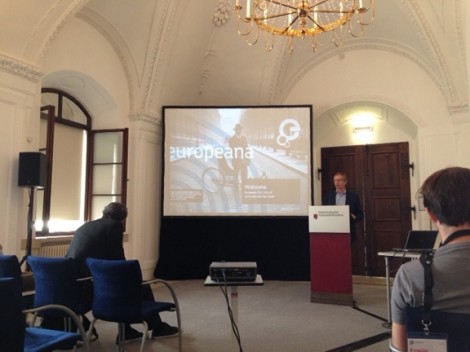 The aim of the DSI-2 project is to ensure the continued operation of the Europeana Digital Service Infrastructure (DSI) and to facilitate the transition of the Europeana website from a portal to a multi-sided platform, offering a variety of services to data providers, end users and re-users. Key objectives are to innovate the aggregation infrastructure to make it easier for providers to add their content to the Europeana site; improve the quality of metadata and the quantity of digital objects available; increase the amount of objects with open licencing conditions; develop more thematic channels; and to create a series of 'Expert Hubs' across the Europeana network.
About 60 attendees convened in Vienna to discuss with the WP leaders both practical details of the project activities and objectives, overview and strategies. The kickoff included plenary sessions and parallel thematic meetings on specific areas of the project, and it was opened by Max Kaiser (Austrian National Library, technical project manager) and Jill Cousins (Europeana Foundation).
In the wrap up session at the end of the kickoff the participats together made a wordcloud and it is notable to see the word "direct" as  the most important one, as it expresses the objective and direction of the new Europeana aggregation infrastructure that is under development.