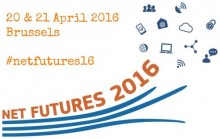 The AppHub team is glad to welcome you and your partners involved in open source innovation in Brussels, at two upcoming events, with interactive support for your project and AppHub Store demontrations.
Do not miss these opportunities to deploy and run your software on multiple clouds, physical and virtual infrastructures. We'll assist you to bring your project into the AppHub Open Source Marketplace, and to improve the portability of your open source code through the AppHub Factory.
1- Join us for a demo of the European open source marketplace or a talk on AppHub at CloudScape 2016, March 8-9. More information: http://l.ow2.org/cloudscape2016
2- Learn about open source governance and quality best practices at NetFutures AppHub booth, April 20-21. Bring your own software and configuration process at the AppHub workshops scheduled on April 21-22, also in Brussels. More information, agenda and online registration: http://l.ow2.org/awnf/

We are looking forward to see you soon in Brussels!