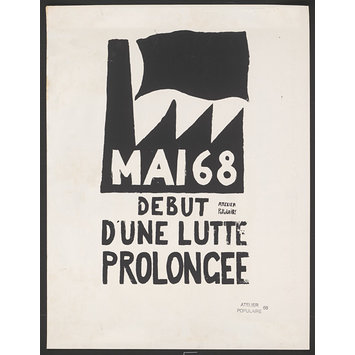 The Media Studies Commission of the International Federation of Television Archives announces its forthcoming international seminar to take place in Paris, on March 20th, 2017.
The one-day seminar is dedicated to the media coverage of different political and social events that took place in 1968 across the globe. From the Prague Spring in the former Czechoslovakia to the student protests in Paris and civil rights movement in the United States, the protests of 1968 marked a series of national and transnational events that captured media's attention.
The seminar will be hosted by Centre national de la recherche scientifique in Paris and is organized by the FIAT/IFTA Media Studies Commission in collaboration with the EUscreen Foundation and the Institut national de l'audiovisuel (INA).
Scholars, archivists and media professionals were invited to send in a 250-word abstract dealing with, but not limited to:
Media coverage of social and political events that took place in 1968 in different national contexts;
Comparative and transnational studies on May 1968;
May 1968 as a platform for doing European television history;
Live broadcasting of media events in 1968;
Archival material from around the world documenting the 1968 events in different countries.
We also welcome studies on other topics, which have used archival material from FIAT/IFTA member archives.
The deadline for submitting the abstracts was January 15th, 2017. Selected papers dealing with the coverage of 1968 on television in Europe may be invited to submit to the special issue of VIEW Journal of European Television History and Culture dedicated to '1968 on Television', to be published by the end of 2017.
FIAT/IFTA member archives can provide research facilities and extracts free of charge to candidates whose abstracts are selected. Inquiries about this should be made to the chair of the Media Studies Commission, Herbert Hayduck (archiv @ orf.at).
Image: Mai 68 Début d'une lutte prolongée – Atelier Populaire via V&A Collections