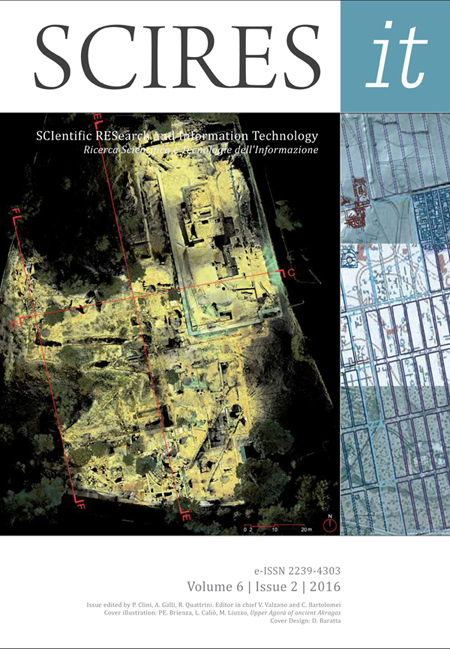 SCIRES-IT (SCIentific RESearch and Information Technology) is inviting papers for Vol. 7 No. 1 which is scheduled to be published on June 2017.
The deadline for submission of proposals is scheduled for March 1, 2017.
Papers should be submitted electronically via email (sciresit.journal@gmail.com) to the Editor in Chief in DOC and PDF, including a cover sheet containing corresponding author's name, affiliation, mailing address, phone, fax number, email address and short Cv.
SCIRES-IT (e-ISSN 2239-4303), is an open access journal providing an international forum for the exchange and sharing of know-how in the areas of Digitalization and Multimedia Technologies and Information & Communication Technology (ICT) in support of Cultural and environmental Heritage (CH) documentation, preservation and fruition.
It is a peer-reviewed journal, founded in 2011, available online on a semi-annual basis, at: http://caspur-ciberpublishing.it/index.php/scires-it.
Here you can download the template: http://caspur-ciberpublishing.it/public/journals/43/SCIRES-IT_Template.docx