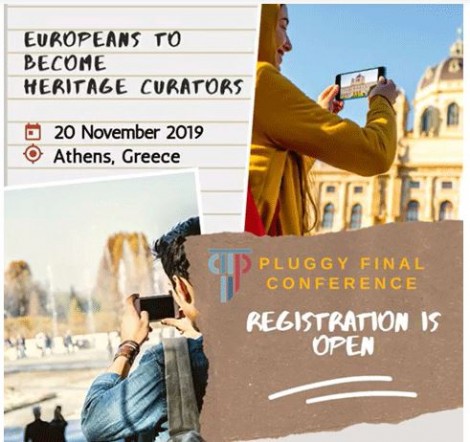 Pluggy, the Pluggable Social Platform for Heritage Awareness and Participation, is a 3 year EC funded project with the aim to involve actively the whole society in cultural heritage.
The platform provides innovative tools and apps (i.e. 3D audio, augmented reality, geolocation and collaborative games) to enable users to share their local knowledge and experiences by allowing professionals and citizens to actively contribute to the promotion and preservation of cultural heritage.
Wednesday 20th of November 2019 the final event entitled "Europeans to become online heritage curators" will be held in Athens to presents the PLUGGY Social Media Platform.
The programme of the event includes:
The Conference to discuss PLUGGY's result as well as the latest technological advances in the field of participative culture at a European level;  participants and key-experts will be invited to the debate and there will be several interactive presentations and live discussions.
A parallel exhibition to show the PLUGGY Social Media Platform, Curatorial Tool and apps through exciting demonstrations and hands-on sessions.
The presentation of the six winning apps of the PLUGGY App Challenge and the awards ceremony for the best one:

in the framework of PLUGGY, an app challenge took place, in order to invite external developers to develop pluggable applications and demonstrate the connectable nature of PLUGGY and its potential exploitation. The app evaluation committee chosen 6 finalists; finally, in September and October, a public competition for the best app took place; the winner will be awarded during this event.

The live tour around Technopolis, the venue of the event; the participants will have the opportunity to experience through the PLUGGY apps, cultural heritage stories about the surrounding area, which is one of the most important areas of the city of Athens.
More info:
PLUGGY website: https://www.pluggy-project.eu/
PLUGGY final event website: https://www.pluggy-project.eu/final-event/
Venue: INNOVATHENS, Hub of Innovation & Entrepreneurship of Technopolis City of Athens,Peiraios 100, 11854,Gazi, Athens, Greece
Date: the 20th November 2019
Registration: participation to the PLUGGY Final Event is free but registration is obligatory due to the restricted number of seats. Register here