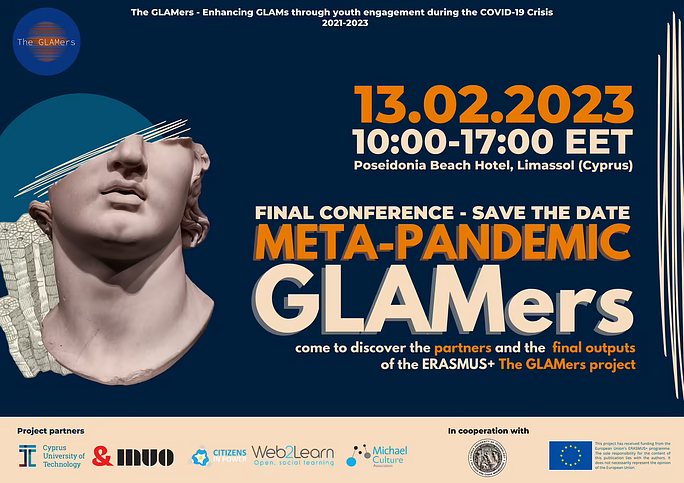 Meta-Pandemic GLAMers conference takes place on Monday 13th of February 2023 at 10.30 am (EET) at Poseidonia Beach Hotel, Limassol, Cyprus, which will mark the final event of our EU project "The GLAMers". The project is coordinated by the Cyprus University of Technology through the UNESCO Chair on Digital Cultural Heritage in cooperation with key partners in the sector of GLAMs, which are located all over Europe and consist of a wide and complementary range of profiles:
1. A local Cypriot NGO addressing youth communities: Citizens in Power, Nicosia, Cyprus,
2. An SME on open and social learning: Web2Learn in Greece,
3. A museum of national reach: The Museum of Arts and Crafts in Zagreb, Croatia and
4. A pan-European network of cultural institutions: Michael Culture Association, Brussels, Belgium.
The event is organised as a unique moment to explore the main results of the project, but it will also be an opportunity to take stock of the post-pandemic situation of European GLAMs (Galleries, Libraries, Archives, and Museums). Therefore, significant institutions and personalities from policy, creative industry, different stakeholders and GLAMs will be actively involved and share with us their knowledge.
Key Policy makers like Mrs Themis Christophidou, Director General of the European Commission DG EAC and Dr. Yiannis Toumazis CY Deputy Minister of Culture will be present and follow up the event.
In addition, outstanding professionals such as Prof. Monika Hagedorn-Saupe, (Chair lady of the ICOM.CIDOC Scientific Committee) and Mrs Mary Véronique (Chairlady of the Europeana Aggregators Network) will be Keynote Speakers.
Among our key workshop speakers will be:
1. Dr. Tony Cassar, Manager of Digitisation and Outreach Unit at Heritage Malta,
2. Mr. Michael Klein from 7Reasons Media GmbH in Vienna, Austria,
3. Mr. Chris Vastenhoud, DPO – Kunst en Geschiedenis Museum, Brussels, Belgium, Project coordinator – eCOLLECTIONS and more outstanding presenters to follow soon.
Registration HERE.