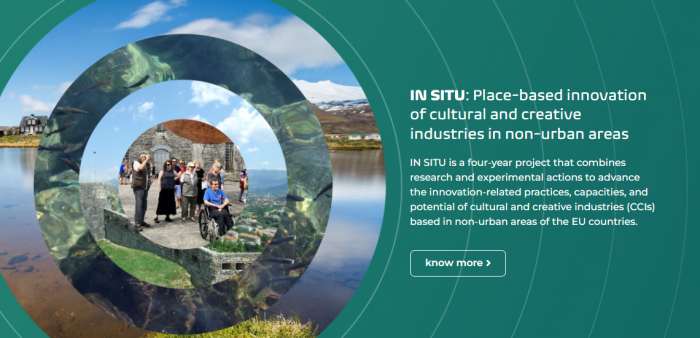 IN SITU is a 48-month-long research project currently exploring how cultural and creative practices can help tackle place-based issues in six non-urban areas representing the six IN SITU Labs: Azores, Portugal; Western coastal region, Ireland; Western region, Iceland; Rauma and Eurajoki municipalities, Finland; Valmiera County, Latvia; Šibenik-Knin County, Croatia.
In this context, the project has just launched a survey on 'Mapping of cultural and creative projects & selection of case studies'. Through this survey, we want to map projects proposing cultural and creative responses to key place-based issues in the six IN SITU lab locations and at the same time identify the two most relevant, impactful and innovative projects in each Lab location, in order to become the case studies of the IN SITU project. The case study providers will be subcontracted to provide two monitoring reports on the development of their project (value EUR 5000).
The survey can be answered by those meeting the following 3 requirements:
The cultural or creative practice of the respondent is legally registered in one of the IN SITU lab locations (see above); AND
The respondent is active in one or more cultural or creative fields; AND
The respondent runs or is involved in a project that is related to one or more of the most pressing local issues in his/her region.
Link to the survey: https://s.chkmkt.com/?e=304104&h=B85D75A518E255F. The introduction to the survey includes all the necessary information and also the link to a more comprehensive FAQ document.
---
More about IN SITU: https://www.digitalmeetsculture.net/article/in-situ-new-project/