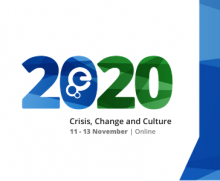 2020 is not the year we thought it was going to be. A global pandemic has changed our day-to-day lives. The Covid crisis has brought home how connected our lives are across the globe, while the injustices and societal inequalities that exist between them have been thrown into sharp relief. This demands a response from us. Above all, this year has shown us that we need to build more coherent, coordinated and effective approaches to dealing with the challenges facing society, whether it is a short-lived natural disaster, a pandemic, or the ongoing battle to combat climate change.
This is as true for the cultural heritage sector as it is for our wider society.
In recent months, culture has shown to be a compelling force: people turned to digital technology and communication to share culture and come together as families, in friendship groups and as communities. As we move through and on from these crises, how can digital culture create meaningful and positive change in our society?
Now is the time to look critically at the role of cultural heritage, and reimagine it.
Europeana 2020 builds on that momentum to explore how – together – we can develop an open, knowledgeable and creative society.
Website and registration: https://pro.europeana.eu/page/conference#
Call for proposals is open until 30/9.