The Digital Era is changing the ways we interact between us, the ways we work… and for sure, the educational world. Traditional ways of teaching and learning are being transformed, and key challenges should be addressed to exploit the technologies potential on learning as well as to ensure that the young generations have the required digital skills and competences.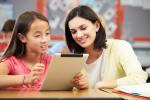 The European High Level Conference on "Education in the Digital Era" brought together interested stakeholders to discuss the opportunities and challenges of adapting education to a fast changing, digital society and economy, whilst shaping education's place and priority in the EU's sustainable growth agenda.
The event was organised around 3 main key themes:
Increasing the quality and relevance of learning

. How can we make learning more interactive and connected through digital means, responding to learners' individual needs and goals? (materials around this topic here)

Increasing the impact of educators

. How to unlock the potential for a more personal and effective interaction with students? (materials around this topic here)

Addressing inequalities through better access and lower cost

. How to ensure digital access to the best content, resources and teachers (materials around this topic here)
The discussion around these topics was intensified through an online debate. The main positions and inputs of the different participants in the panels were available to the audience ahead of the event through the event website, allowing to start the discussion and engage with the addressed issues ahead of the conference itself. At the same time, the debate can be followed on Twitter through @OpenEduEU and the hashtag #EdDigEra.
As stated at The NMC Horizon Report Europe: 2014 Schools Edition, European schools are facing key challenges linked to the impact and use of new technologies:
Alongside the debate, participants were also be able to visit and experience a replica of European Schoolnet's Future Classroom Lab, a glimpse at some of the most recent developments in learning technologies. During the lunch break, the award ceremony of the Open Education Challenge took place. The winners showed the potential of entrepreneurship and innovation in education.