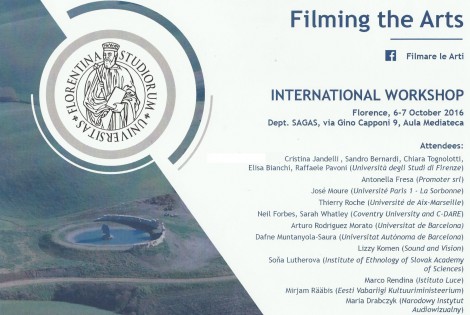 Filming the Arts is a research of the University of Florence that intends to develop knowledge of the role of the arts (cinema, music, theatre, dance, visual arts and folkore events) for enhancing and representing a certain territory.
Filmed arts also have an important impact for Digital Humanities and citizens engagement, as videos of performances are often taken by the audience and shared on social media, to either showcase good or bad practices of management and interaction with public spaces and territory/landscape.
The Workshop organized by the University of Florence, SAGAS department, on 6-7 October 2016, included international experts from all over Europe discussing how digital cultural heritage (both digitized and born-digital) forms the backbone for a modern European cultural identity that is represented in perfomative and filmed arts and many other creative practices.
Antonella Fresa was invited at the workshop, together with other E-Space partners: the project coordinator Sarah Whatley, Marco Rendina from Istituto Luce and Lizzy Komen from NISV.