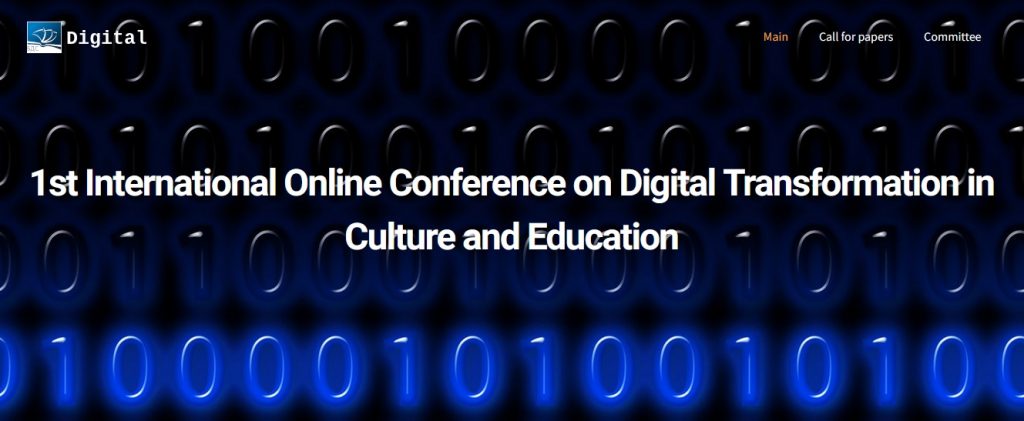 The 1st International Online Conference on Digital Transformation in Culture and Education will take place on 14-16 April 2021.
Conference will be hosted by the Serbian Library Association Section for Digital Transformation.
The Conference provides an excellent forum for digital librarians, researchers and practitioners to present and discuss the latest advancement and problems as well as future directions and trends in digital transformation in today's ubiquitous virtual environment challenged by pandemic "new normal".
Conference website: https://digital.bds.rs/conference-2021/
>>>>
ABSTRACT SUBMISSION (extended deadline 1 March)
Authors are invited to submit abstracts and papers describing original research, best practice examples, analysis, cooperation models etc. in areas including, but not limited to:
IT Infrastructure in cultural and educational institutions
Digitalisation and digital collections
Web and social networks
E-catalogues
Other applications and technologies used in cultural and educational institutions (e. g. AR, VR, learning apps, etc.)
Professional development in the digital era
Social consequences of digital transformation
IMPORTANT DATES:
Deadline for abstract submission: 1st March 2021
Notification of abstract acceptance: 15 March 2021
Final Programme Announcement: 25 March 2021
Conference date: 14-16 April 2021
Please send your brief biographical information, topic, abstract and key words of your presentation to the following email address: conference2021@digitalna.rs.
Abstracts should be written in English, the official language of the conference, and up to 300 words long. Presentations (Power Point, multimedia) duration is limited to a maximum of 10 minutes.
Full papers submitted for the conference proceedings will be reviewed and published in open access via the Zenodo platform.