Applications are invited from candidates who possess the necessary qualifications in order to fill one full time Marie Curie Research Fellow Position within the Department of Electrical and Computer Engineering and Informatics in the field of 3D Reconstruction and Computer Vision in Cultural Heritage: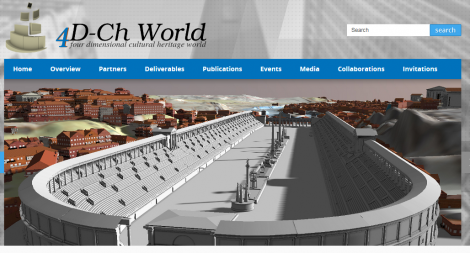 The Marie Curie Fellow will work within the 4D-CH-World Marie Curie IAPP Programme. 4D-CH-World is a major EU funded programme which brings together six (6) leading European partners in a transnational network, aiming at implementing a multidisciplinary and intersectorial research and training programme between the academic and the industrial partners in the field of Computer Graphics, Digital Libraries and Cultural Heritage.
The project 4D-CH-World will analyze, design, research, develop and validate an innovative system integrating the latest advances in computer vision and learning, as well as, 3D modeling and virtual reality for the rapid and cost-effective 4D maps reconstruction in the wild for personal use, and support the aim of our European Commons and the digital libraries EUROPEANA and UNESCO Memory of the World (MoW) to build a sense of a shared European cultural history and identity. Specifically, we are interested in the development of a fully automated time-varying 3D model engine for cultural heritage urban environments from a large collection of historical images, in order to fulfill professionals and organizations needs for more versatile functionalities, offering not only access and retrieval of high quality content but also supporting more sophisticated functionalities such as interoperable (metadata) cultural object descriptions, immersion of content into diverse (educational / cultural / research) contexts, 3D reconstruction of (partially) damaged artefacts.
The Marie Curie Fellow (One Experienced Researcher-ER) will be based at the Cyprus University of Technology/Department of Electrical and Computer Engineering and Informatics (Digital Heritage Research Lab) in Limassol, Cyprus and will benefit also from the projects transfer of knowledge and other complementary training activities and short placements at other European partners of the 4D-CH-World Consortium.
Download the call (PDF, 196 Kb)