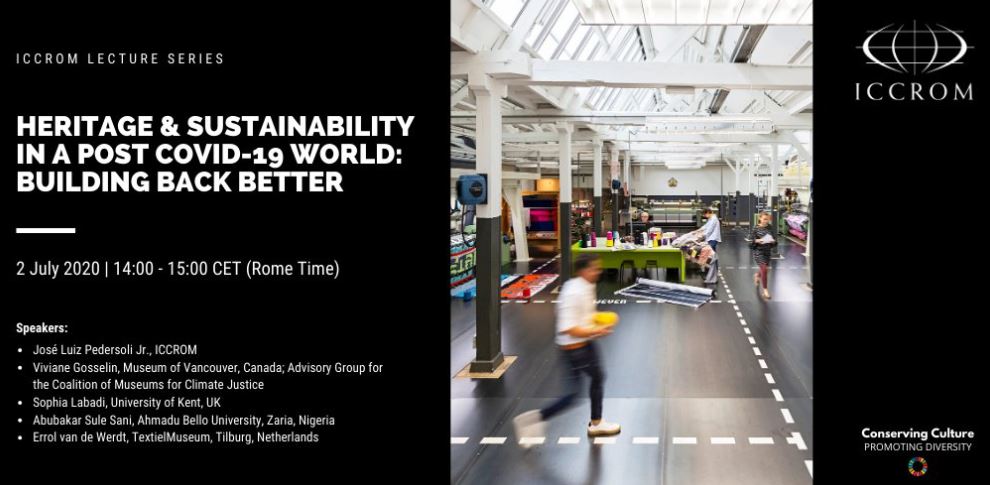 The International Centre for the Study of the Preservation and Restoration of Cultural Property (ICCROM) had organized a very interesting webinar, on Thursday 2nd July, in which the sector of cultural Heritage was called to reflect on the actions to be taken to strengthen the role of heritage in sustainable development, in line with the United Nations agenda for 2030.
The sector had to reflect on its experience, reconsider its position and take concrete measures that promote social, environmental and economic sustainability in order to be able to 'build back better'. Particular considerations was about museums and their collections.
Prominent speakers attended the event:
Viviane Gosselin, PhD, Director of Collections and Exhibitions at the Museum of Vancouver, Canada. Member of the Advisory Group for the Coalition of Museums for Climate Justice.
Sophia Labadi, PhD, Professor of Heritage, University of Kent, UK.
Abubakar Sule Sani, PhD, Senior Lecturer, Department of Archaeology, Ahmadu Bello University, Zaria – Nigeria.
Errol Van De Werdt, drs/MA, Director, TextielMuseum, Tilburg – The Netherlands.
José Luiz Pedersoli Jr., ICCROM
Further information and the webinar here.