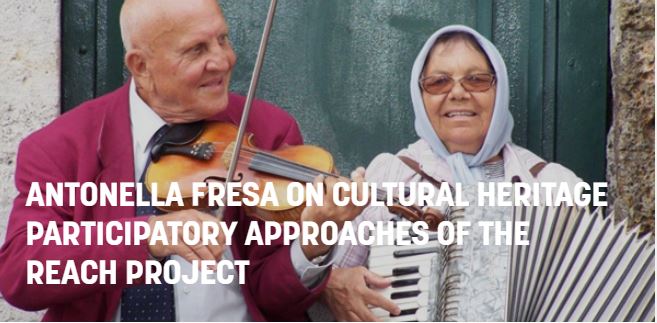 On April 12 2021, Antonella Fresa, REACH Network Coordinator, was invited to share the experiences and results of the social platform in the framework of the European Youth Ambassador Programme, a  joint initiative by the European Students' Association for Cultural Heritage (ESACH), Europa Nostra and the European Heritage Tribune (EHT) which aims at fostering the engagement of young people with cultural heritage.
The interview was carried on by two European ambassadors Héctor Manuel Aliaga De Miguel and Klaudia Chzhu and published by the European Heritage Tribune.
Antonella presented REACH, its origin, its mission and challenges but also the critical points and difficulties faced were highlighted to give a global overview of the work carried out during the three years of lifetime of the project.
The importance of telling daily life's stories was underlined as the best contribution that everyone can offer in order to transmit culture and participate in increasing cultural heritage.
The Network Coordinator then proceeded with the description of the criteria for identifying good practices of participation for the REACH project and the needs that fostered the creation of a database at disposal to all experts of the cultural heritage sector. We sincerely hope that the testimony brought by our project will be useful to inspire further initiatives and to keep alive and preserve the European cultural heritage.
Link to the full text of the interview.