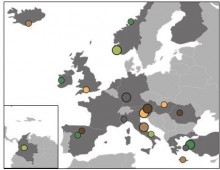 Are you a rural community that is searching for innovative solutions, using your local heritage potential as a catalyst for economic competitiveness and/or sustainable and inclusive growth?
The RURITAGE project, funded under H2020, is looking for 6 rural areas located primarily in the EU and in the EEA and 3 in the16 ENP countries, which would like to transform themselves in in sustainable development demonstration laboratories, through the enhancement of their unique Cultural and Natural Heritage potential.
Already 19 case studies, also called Rural Heritage Hubs, are involved in the project. These 19 Rural Heritage Hubs represent 13 good practice examples or Role Models and 6 Replicators, which will implement innovative heritage-led solutions. Together with several multidisciplinary expert institutions, these Rural Heritage Hubs aim to demonstrate that Cultural and Natural Heritage can emerge as a driver for sustainable regeneration and development.


In particular, RURITAGE will:
– Make successful practices and solutions on heritage-led rural regeneration available and replicable;
– Identify the financial resources needed to preserve cultural heritage in rural areas;
– Promote the engagement of rural communities in the decision-making processes;
– Provide roadmaps for the development and long-term sustainability of heritage-led regeneration strategies.
Based on past research and experiences, RURITAGE has identified 6 Systemic Innovation Areas, namely Pilgrimage,Sustainable Local Food production,Art & Festival,Migration,Resilience, and Integrated Landscape Management, which represent the ways in which cultural heritage acts as a driver for regeneration of a rural area and its economic, social and environmental development. Each of these topics is represented in the project by at least 2 Role Models and 1 Replicator.
Read more about this Call and RURITAGE Project
Application form