The workshop "Heritage-Led Regeneration: What Is Our Vision?" will take place in Brussels on Thursday 20 November, co-hosting by RURITAGE and ROCK projects.
This joint workshop will discuss the use of cultural heritage as a driver for sustainable growth in both urban and rural areas.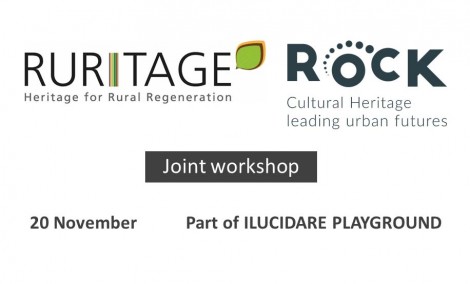 It will be part of the Playground events organized by the ILUCIDARE project with the aim of stimulating interdisciplinary interactions and networking among participants with discussions, inspirational speeches, workshops, panels and speed-networking.
Three working groups will explore different aspects of heritage-led regeneration:
how heritage can contribute to building community resilience.
what is the role of heritage in creating social inclusion, in particular access to cultural heritage for vulnerable groups.
how heritage drives creativity, bringing together the concepts of creative cities and arts as an innovative force for rural regeneration.
The joint workshop will serve for drawing a European Vision Paper for urban and rural regeneration through cultural and natural heritage.
The RURITAGE project, with support of ROCK and other experts, will continue working on the Paper even after the workshop, and will share the final document in May 2020.