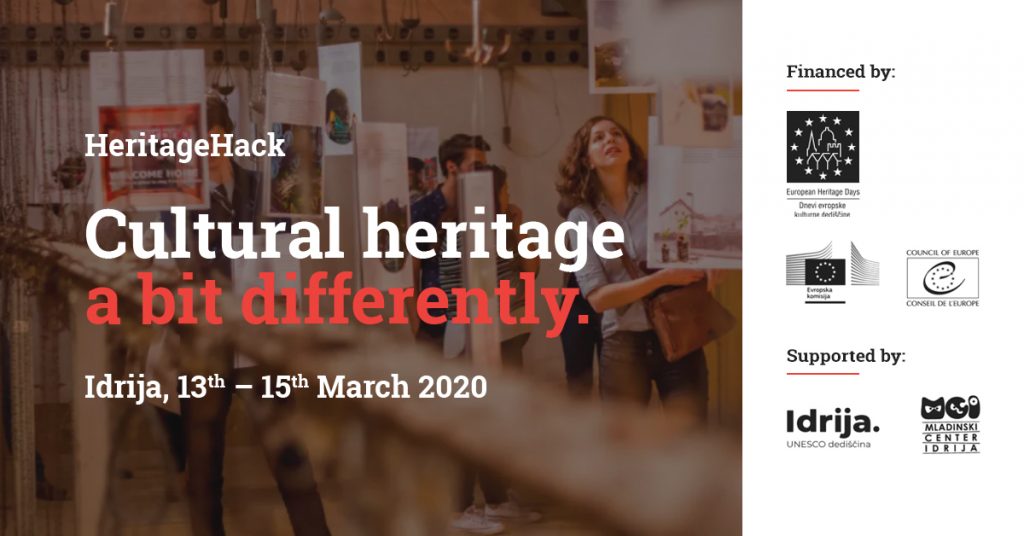 The Idrija 2020 Association organized, from the 13th to the 15th March, a 3-day hackathon for cultural Heritage called HeritageHack.
The Association was founded in 2012 when 5 professionals, highly educated and native to Idrija, rethought the cultural heritage of their small former mining town, nowadays a UNESCO World Heritage Site, with the aim to develop the municipality of Idrija into a youth-friendly municipality, that attracting the young and bringing people together.
Idrija 2020 Association and the story connected to it was selected as a good example at the Heritage Days Stories contest that enabled its to receive the financial support of the European Commission and the Council of Europe for organising the HeritageHack.
Idrija 2020 co-founded the ID20 Istitution that gathers a team of young highly skilled and experienced young professionals in the fields of architecture, business development, design and heritage innovation; the aim of ID20 was to unite and provide opportunities and support at other organisations and individuals in taking one step further in innovation of cultural heritage and transform heritage from a thing of the past to a matter of future.
The activities promoted by ID20 comprise:
HeritageLab: where young people create new products and services, based on local heritage. In 2018, HeritageLab won the European Social Innovation Competition.
Support for organisations that build on the rich cultural and natural heritage of their surrounding (heritage institutions, municipalities, tourist and non-governmental organisations) in reaching and engaging their customers and partners.
lasting, meaningful design that brings value to existing buildings, to leave the environment better than today.
The call is open to creative and inspirational ideas from different sectors, to give answers to the challenges of cultural heritage and to find entrepreneurial ideas for generations to come.
The deadline is the 29th February 2020.
Young people between 18 and 30 can participate at Hackathon and tackle the challenges that the heritage institutions in the town (museums, Municipality,..) are dealing with. They will be provided with data and experienced mentors and will get the chance to discover the heritage in Idrija first hand and try out different digital devices (AR, VR,..).
The best ideas will be generously rewarded!
Further information:
Leaflet
Location: Inzaghi Shaft Machine House, Vodnikova 3, Idrija, Slovenia
Link to event web page (Slovene): https://www.id20.si/heritagehack/
Facebook event (Slovene): https://www.facebook.com/events/463456994362607/
Association & Institute web page (English): https://www.id20.si/en/home/