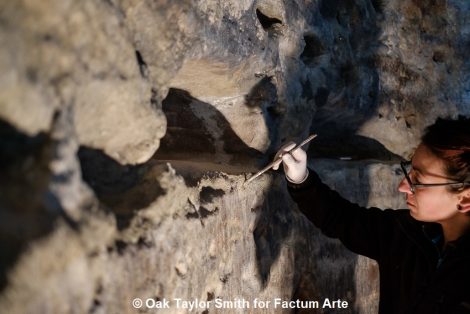 The site of Risco Caído was incorporated into the UNESCO World Heritage List in 2019 as 'Risco Caído and the Sacred Mountains of Gran Canaria Cultural Landscape'.
It is a complex of 21 artificial caves used as living and storage spaces and cult cavities and it is a prime example of the pre-Hispanic cave-dwelling cultures of the Canary Islands.
The site is not easy to reach and its preservation is particularly delicate given its fragility.
Cave No. 6 is particularly interesting, because it has been interpreted as having a sacred function related to the movement of sun and stars and it can be considered as an example of a pre-historic solar calendar.
© Oak Taylor Smith for Factum Arte
Factum Arte has been working with the Cabildo de Gran Canaria since early 2019 to record and re-materialise an exact facsimile of 'Cave No. 6'.
The result of this project has been the realization of an exact facsimile of the Cave at 1:1scale that will be more accessible to the public since easier to get to than Risco Caído and meanwhile will assist this fragile site in its long-term preservation.
This is a clear example of how the new technology can serve to promote accessibility to vulnerable cultural heritage sites around the world whilst monitoring and maintaining their present condition.
The facsimile will be on permanent view at the new Risco Caído Interpretation Centre in the town of Artenara.
More information about the processes involved in the creation of the facsimile, photos and video, are here.