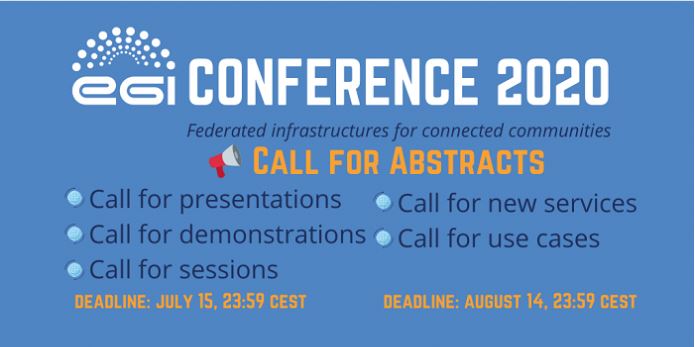 The three-day conference will bring together science, computing, and (international) collaboration with the aim to exchange knowledge and expertise on a very rich and articulated range of topics.
The scientific programme includes:
• Novel technical solutions
Existing and emerging use cases and solutions for Big Data, HTC, HPC, Accelerated Computing integration
• Machine Learning, AI Platforms
Distributed Ml, AI and data analytics in a federated environment
• Hybrid multi-clouds and cloud federations
Cloud federation use cases, business models, architectures and reference implementations for science, e-Government and industry; federated service management approaches at local, national and international level
• Research Community success stories through the EGI Federation
Success stories on how scientific excellence has been enabled through the federation of national, regional and international e-Infrastructures and in particular the EGI Federation
• Federated Access Services for distributed digital infrastructures
Emerging requirements, technical solutions and policies needed to enable federated authentication, authorization, accounting, monitoring, and discoverability of data, software, applications and all research outputs for open science
• Frontiers in scientific computing in Natural Sciences, Health and Medicine, Engineering and Technology, Agricultural Sciences, Social Sciences and Humanities
Future directions in technology, infrastructure provisioning and collaboration for exabyte-scale computing in all scientific disciplines, Open Science, Data analytics platforms and virtual research environments for integrated data-compute services
Deadline of the calls for presentations, demonstrations and sessions have been extended to the 15th of July 23.59 CEST
The EGI Federation is an international e-Infrastructure set up to provide advanced computing and data analytics services for research and innovation.
This mission is pursued by coordinating and provisioning an international federated infrastructure that pools together service providers from both the public and private sector in Europe to develop, integrate and deliver digital services for compute- and data-intensive research and innovation. As an open initiative with a global outlook, the EGI Federation also connects service providers beyond Europe following the collaboration needs of the served communities.