How can cultural institutions renew and remake themselves? How can they foster the shift from traditional hierarchies of Cultural Heritage (CH) to more fluid, decentred practices?
Both the RICHES European Consortium and the Association of Italian Cultural Institutions (AICI) are actively engaged in answering this question, central theme of the International Conference "Cultural Heritage: Recalibrating Relationships" held in Pisa, at the Museum of Graphics of Palazzo Lanfranchi, on 4-5 December 2014.
As RICHES official associate partner, AICI brought its valuable contribution to the project event, participating in the conference and related poster session with several representatives from its member institutes. Among them: Carmine Marinucci, AICI Secretary-General, presenting his association and Only Italia Education, innovative project for a modern structure devoted to sharing Italian and European cultural heritage with other cultures in the world; Pasquale Smiraglia, Chair of the National Academic Union, grouping the most important Italian academies as Accademia dei Lincei, Accademia della Crusca and the Venetian Institute for Science, Letters and Arts; Giordano Bruno, Director of ISIA Roma – High Institute for Artistic Industries aimed at the training of highly professional designers as well as the preservation and development of the finest European intellectual and teaching tradition – together with his collaborators Marco Pietrosante, Tommaso Salvatori and Giulia Romiti; the Ugo and Olga Levi Foundation for music studies and the Venetian Institute for Science, Letters and Arts.
Since 1992, The AICI members are involved in research activities and the promotion and preservation of cultural heritage. AICI holds the heritage of the enterprises, the social and political movements and all the organisations that characterised the modernisation process of Italy.
The archives of the over hundred AICI-afferent cultural institutions are relevant historical sources, preserving the complex Italian identity and telling the birth of a European political culture.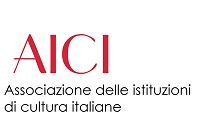 The Institutes cover all the territorial divisions and act as a plural organisation combining the preservation of book and archival goods with the promotion of relevant cultural activities. They are historical sources and tools for the development of the social, political and technical dimension of the Italian and European culture; in the digitisation of cultural heritage, joined with innovative and original forms of dissemination, AICI identifies a strategic and overriding instrument.
Together with RICHES, AICI works for unlocking the social and economic potential of culture.
For more information visit the RICHES conference website and www.aici.it