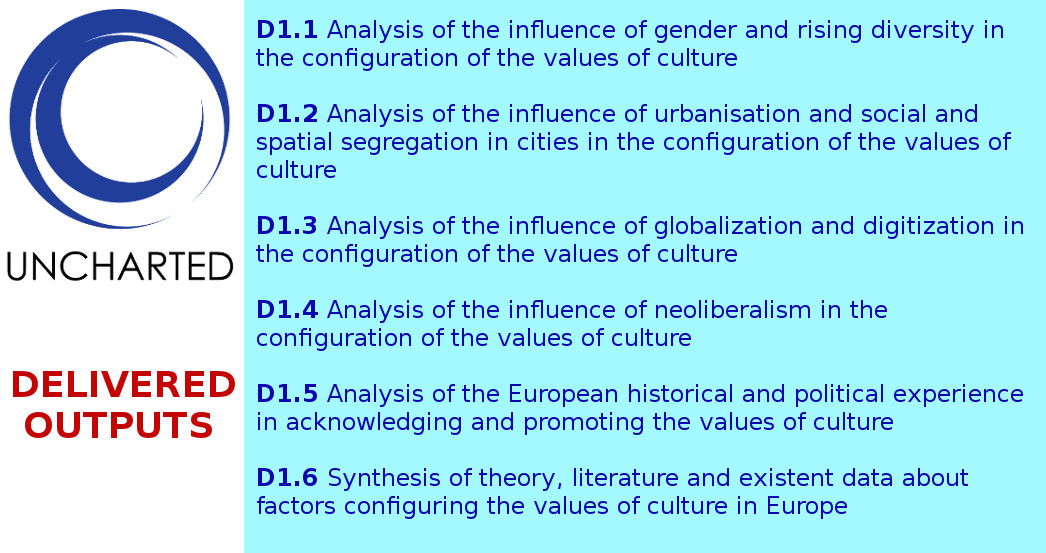 After the publication of the first outputs of its investigation, UNCHARTED presents  the sixth and final deliverable of the Work Package 1 (WP1), leaded by the University of Barcelona and devoted to analyzing the configuration of cultural values in Europe.
Each of the deliverables produced by WP1 has analysed different aspects considered relevant for the constitution of the cultural values in Europe: gender and rising diversity (D1.1), urbanisation, spatial and social segregation (D1.2), globalisation and digitisation (D1.3), neo-liberalism (D1.4) and the European historical and political experience (D1.5).
The deliverable D1.6, titled "Synthesis of theory, literature and existent data about factors configuring the values of culture in Europe" synthesises the previous exploration of the research literature and existing data on the factors and circumstances influencing the shaping of the values of culture in Europe and it is organised taking into account the analysis carried out by the deliverables D1.1, D1.2, D.1.3, D1.4 and D1.5 . The project's partner responsible for its delivery was the University of Barcelona.
Brief summary of the previous reports of the WP1:
Download the full text of each deliverable in the UNCHARTED download area.
Link to the WP1 webpage.