The 7 Most Endangered programme was launched in 2013 as part of a civil society campaign to save Europe's endangered heritage.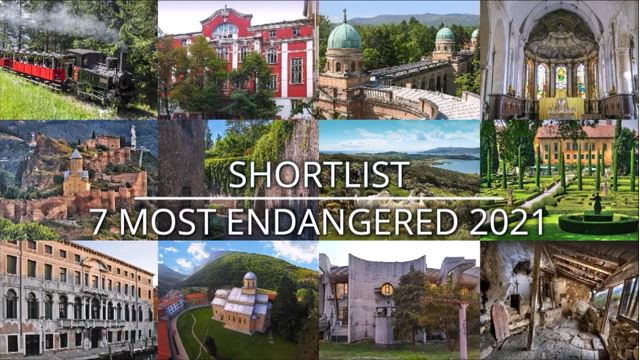 Each year, 7 European heritage sites are selected as the most endangered. This selection aims to draw attention for mobilization of necessary public or private support, including funding, and as a way to raise awareness of the vulnerability of cultural heritage.
It is run by Europa Nostra– the European voice of civil society committed to cultural and natural heritage – in partnership with the European Investment Bank Institute and the support of the Creative Europe programme of the European Union.
An international committee consisting of experts in history, archaeology, architecture, conservation, project analysis and finance selected the 12 most threatened heritage sites in Europe for the 2021 edition and announced their names in December.
Among these, 7 sites will be selected which, for the first time in the 2021 edition, will receive an EIB Heritage Grant of up to 10,000 euros.
The heritage significance and cultural value of the sites, the engagement of local communities in ther preservation, the potential of these sites for socio-economic development of their localities as well as the serious danger that they are facing, are the criteria that the Advisory Panel used to grade the sites.
The 12 most threatened heritage sites in Europe shortlisted for the 7 Most Endangered programme 2021 are:
Further information:
The 7 Most Endangered Programme
12 European heritage sites shortlisted for the 7 Most Endangered Programme 2021