CitizenHeritage project partner Katerina Zourou (Web2Learn) was invited by the Norwegian University of Science and Technology (NTNU), Brussels office, to give a presentation about CitizenHeritage project on June 4.
The topic of the talk was "Citizen science initiatives in the cultural heritage sector: insights into open cultural data"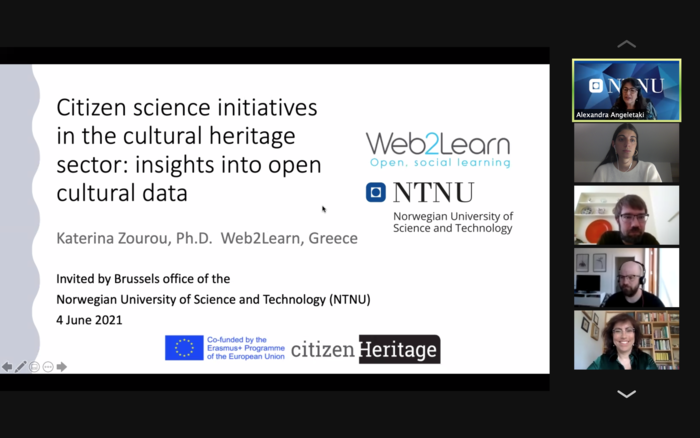 Citizen science — active public involvement in scientific research — is growing bigger, more ambitious, and more networked and supports the open science ideal through open knowledge circulation and open data (Irwin, 2018; European Commission, 2020). The presentation discusses the concept of citizen science as a participatory research methodology in cultural heritage and reviews good practices in creating and communicating open cultural data in citizen science initiatives.
A sample of 25 practices of European Galleries, Libraries, Archives and Museums (GLAM) that we analysed between December 2020 and March 2021 will be presented through the following nine dimensions of openness: Open access; Open data; Open metadata; Open metrics; Open-source software/hardware (use or development); Open access results; Open file formats, Open datasets and Open documentation. The analysis will take the form of data visualisations for the public. This presentation contributes to the understanding of barriers and enablers in the documentation of tangible and intangible cultural heritage in participatory, citizen-enhanced ways
Link to Abstract: https://www.ntnu.no/machform/view.php?id=946685
Katerina Zourou, PhD, is a senior researcher in learning and teaching from an open perspective (open educational resources and practices) and from a networking and collaboration perspective (collective learning, social networked learning). She is also head of Web2Learn in Greece. She acts as project leader or partner in transnational projects funded by the Council of Europe, the European Commission, and national funds.