Organized by partner Europeana and coordinated by Sebastiaan ter Burg, a workshop based on the Europeana Capacity Building playbook took place for the WEAVE project on 25th November. The methodology is designed to support organizations and projects in creating a roadmap for capacity building for digital transformation, and it is influenced by the iterative approach of the Europeana Impact Playbook, thus positioning the expected impact as the driver for reflections, strategy development and activities.
The event was attended with lively participation by project partners, including those involved in the LabDays and in content selection and aggregation. The discussion was conducted by using the Jamboard tool that allows participants to put down virtual sticky notes on a discussion table.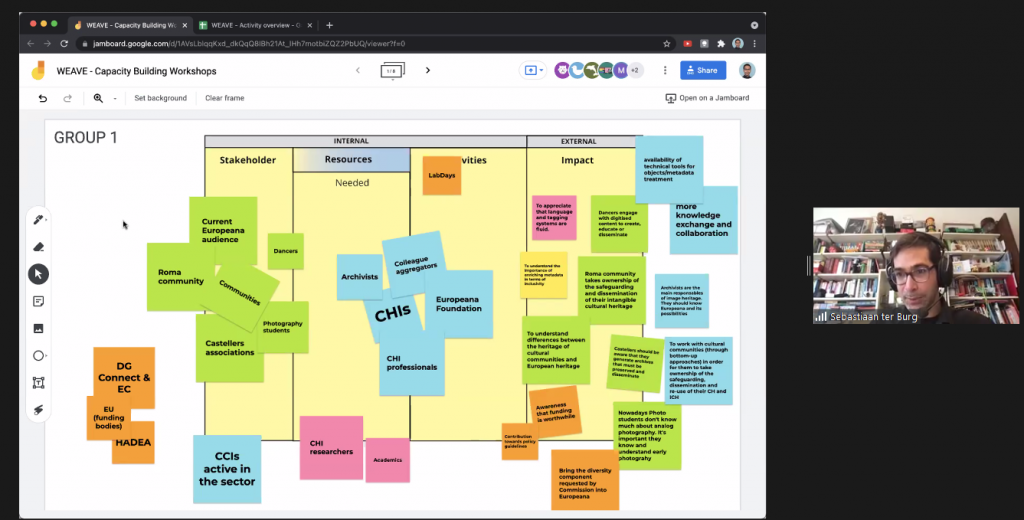 Although the capacity building effort of WEAVE is already well defined since the proposal stage, the results of the workshop were very useful to determine the priority, gaps and feasibility in the different capacity building related activities planned for various stakeholders, also assessing the project's ambitions with capacity building towards different communities.