text by Marie-Louise Crawley (Centre for Dance Research [C-DaRE], Coventry University).
On 3rd February 2022, WEAVE's Rosa Cisneros and Marie-Louise Crawley (Centre for Dance Research [C-DaRE], Coventry University) organized and facilitated a Dream Team session at ECQI 2022.
The Dream Team session used the case study of WEAVE to underpin the exploration of the project's innovative methodological framework for capacity building for Cultural Heritage Institutions (CHIs) to work with cultural communities and with Digital Intangible Heritage. This session specified hands-on methodologies for such capacity building, building on the model of the LabDay methodology that Cisneros and Crawley used in the CultureMoves Europeana Generic Service project (CultureMoves [2019] D3.1 White Paper: Dance in Tourism, Research and Education [p. 89-91]).
The session was supported by the use of an interactive enviroment based on a MIRO Board. View the WEAVE session MIRO board HERE.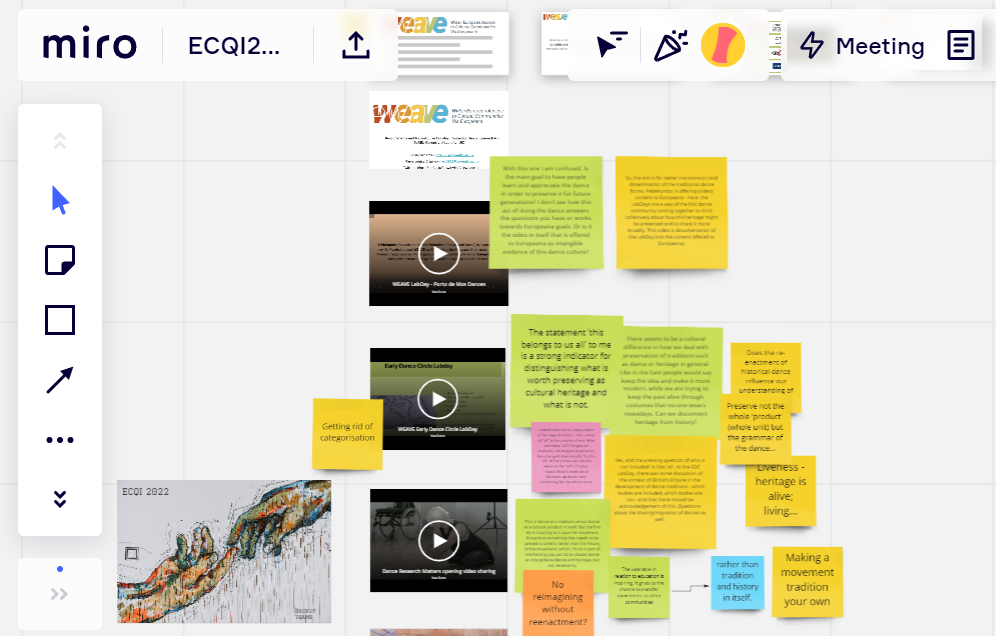 ---
The LabDay methodology has enabled WEAVE to create social, digital and artistic platforms and to set up and maintain various spaces that include vulnerable communities and promote social innovation. This participatory and collaborative has allowed for multicultural communities to join forces towards excellence in Cultural Heritage and social transformation. Through its LabDay methodology, WEAVE allows participants to create and explore connections to Europeana and its collections, as well as to other European heritage professionals. The LabDays also allow for the direct, active participation of all participants as an entirely experiential process during which each participant's creative involvement extends to the point that he/she decides. Further, the constant interaction between the participants throughout the whole process has enabled the participation of multicultural communities and individuals to freely express their attitude and cultural values through dance, art and cultural heritage activities. Finally, the methodology allows participants to re-evaluate their personal experiences within an emotionally supportive framework of trust and acts as a self-aware exchange process of knowledge, culture and experience.

The Dream Team session took itself the form of a 'LabDay in action' examining the methodology in terms of capacity building for digitising intangible cultural heritage and dance. It offered an open space for discussion around key themes related to the methodology with a collective writing output responding to and developing from thinking explored during the session.