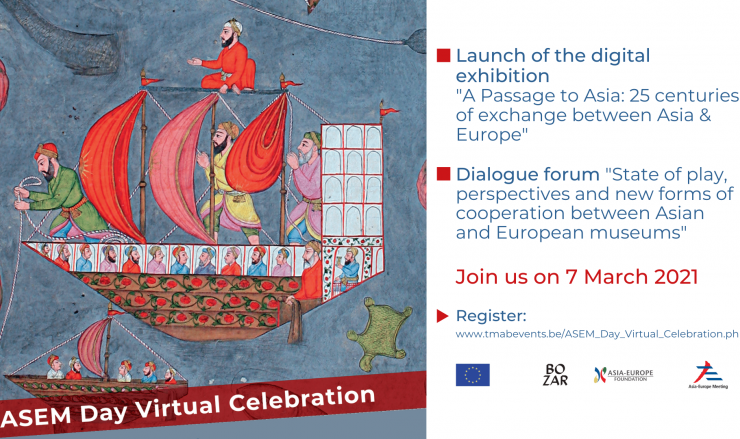 The Asia-Europe Meeting (ASEM) is an intergovernmental process established in 1996 to foster dialogue and cooperation between Asia and Europe. The initial ASEM Partnership consisted of 15 EU Member States, 7 ASEAN Member States, China, Japan, Korea and the European Commission. Today, ASEM comprises 53 Partners: 30 European and 21 Asian countries, the European Union and the ASEAN Secretariat. ASEM addresses political, economic, financial, social, cultural, and educational issues of common interest in a spirit of mutual respect and equal partnership. Through its informal process ASEM facilitates and stimulates progress but does not seek to duplicate bilateral and other multilateral relationships between Asia and Europe.
In occasion of the ASEM Day 2021, The European Union (EU), together with the Asia-Europe Foundation (ASEF) and the Centre for Fine Art Brussels (BOZAR), is organising a special virtual celebration on Sunday 7th March. The online event will present the launch of digital exhibition, 'A Passage to Asia: 25 centuries of exchange between Asia & Europe', followed by a live dialogue forum on the 'State of play, perspectives and new forms of cooperation between Asian and European museums'.
More information and programme available at: https://www.aseminfoboard.org/events/asem-day-virtual-celebration
ASEMInfoBoard webpage
Link to the registration: https://www.tmabevents.be/ASEM_Day_Virtual_Celebration.php
Registration will be followed by an email with a link and password in advance of the event to access the virtual celebration.