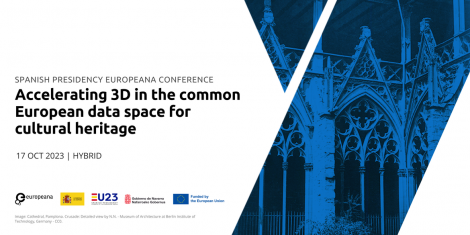 EUreka3D project will be presented at the Spanish Presidency Europeana conference, that will take place on 17 October 2023 (9h – 15h CET). The conference  will foster a multidisciplinary dialogue on 3D capacity building for the cultural heritage sector, showcase a number of best practice examples and case studies, and promote collaboration and networking among key actors and stakeholders.
EUreka3D project will be part of this major event, and will be displayed during Part III of the event ― 3D Data Governance & Access, with the participation of project coordinator Antonella Fresa. The discussion will focus on the challenges around the governance and status of copyright for 3D content, engaging the audience, that will learn how to approach these challenges. The session will be supported by a few practical use cases.
To register and to get updated on the event, follow this link.
---

EUreka3D project is co-financed by the Digital Europe Programme of the European Union.