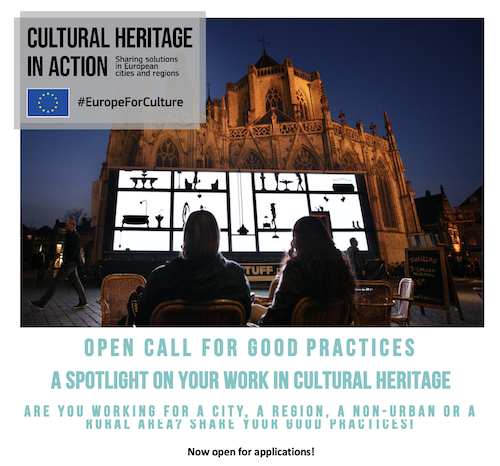 Cultural Heritage in Action is a peer-learning programme started in 2020. It is one of the actions of the European Framework for Action on Cultural Heritage of the European Commission.
The programme has already produced a catalogue of 32 good practices from EU cities, regions, urban, non-urban and rural areas, and organised 10 online peer-learning visits.
In its second phase, the project will continue to empower cities and regions to strengthen their cultural heritage policies and initiatives as well as develop innovative solutions to preserve cultural heritage assets.
In 2022, Cultural Heritage in Action aims to enrich the catalogue with 30 more good practices and organise a set of peer-learning activities, including webinars, online workshops and onsite peer learning visits.
The call is open to local and regional administrations of all sizes (rural areas, medium size cities, large and capital cities, regions) who want share their best practices throughout Europe and beyond.
Practices can be policies, projects, events or organisational structures developed by local and regional authorities.
In particular, practices with the following characteristics are required:
that are innovative
that are inspiring for other cities and regions
that have a real impact on the ground
Among all the applications received, 30 practices will then be selected for publication and promotion through the EU-funded Cultural Heritage in Action programme.
Information on the call are available at https://culturalheritageinaction.eu/event/open-call-for-good-practices/